Cool Threads for Hot Rods!
November 14, 2015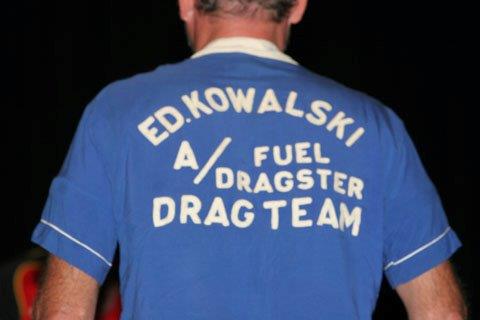 Story by Jim Hill
Tune in to major event drag racing TV coverage and you'll see numbers of crew personnel, each swarming over their race car as it waits to make a run. Each of these minions will be attired in a professionally designed and sewn race crew uniform that billboards their corporate sponsors and each uniform likely cost a couple hundred dollars! This is all very well executed and unless there's an unexpected glitch, both race cars go down the track as the crew exits, making way for the next similarly clad mob to take their places.
Flash back now to drag racing's salad days in the 1950's. Most drag racing crew members and the race car driver wore a white t-shirt, usually screened with a hot rod parts maker's logo, and Levi's blue jeans. Both garments were liberally and honestly coated with the grease and oil of a hard day's work in the pits.
In a few cases one or two crewmen were wearing – usually over their greasy white hot rod t-shirt – a shirt lettered with their race car's name, class and number. If these looked suspiciously like the same shirts used for weekly league bowling, it's because they were!
Many bowling alley pro-shops were chosen by drag racers to design and produce race day shirts. Some were more cleverly done than others, with multi-color script lettering and sometimes, a crudely stitched race car image. It was a dose of early professionalism and a desire for their race team to stand out from the rest of the t-shirt and Levi's clad competition.
And so you have this photograph, an authentically prepared team shirt used by Ed Kowalski's very potent A/Dragster. Kowalski's Allentown, PA based racing effort was indeed a stand out act in its day. Not only did they sport these spiffy race team shirts, but their A/Fuel Dragster was one of the East Coast's fastest and quickest dragsters of its day. Ed himself wore his race shirt, topped off with an early crash helmet only recently evolved from a football player's faceguard-missing hat, or a surplus WW-II aviator's flying helmet and goggles.
Kowalski's dragster was top-flight in every respect. Ed's car was a pro-built chassis assembled and welded at Lynwood Welding. Lynwood's principal was Pat Bilbow, one of the east's first professional drag chassis builders. Its Chrysler Hemi engine was built and tuned by Kowalski, and Ed broke many track records while scoring frequent Top Eliminator wins.
Lynwood Welding's Pat Bilbow not only built successful dragsters, he also produced many chassis for Altered and Roadster classes. (Altered Coupes and Sedans were class-separated from Altered Roadsters for many of drag racing's early years.) Lynwood cars were known to be very sturdy and reliable. Their strength was an important attribute on the early, rough-as-a-cob drag strips of the 1950's and early 60's, before there were purpose-built, glass-smooth tracks.
When Ed Kowalski's A/Fuel Dragster team unloaded its Lynwood chassis at the track it came ready to go with first-class parts, performances that were guaranteed fast and quick, and a slick-looking crew.
So who says today's mega-buck, corporate racing enterprises have such an advantage over drag racing's "early roots" racers? Ed Kowalski's sharp dressed men can still provide a sound argument otherwise.