Ed Kowalski: Keystone of Pennsylvania Drag Racing
December 10, 2015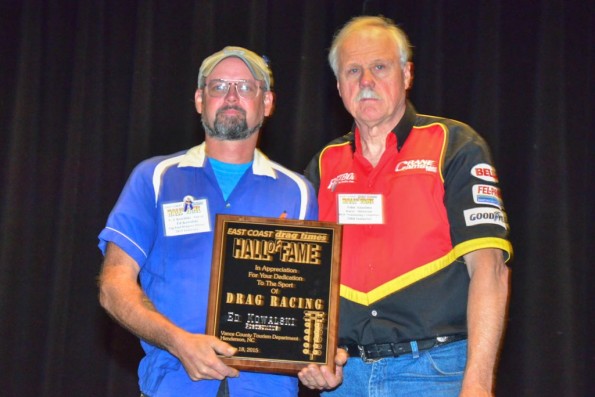 Ed Kowalski's son E.J. Kowalski accepted the 2015 East Coast Drag Times Hall of Fame plaque for his dad. Presenting is Hall of Fame board member and 2004 inductee "Jersey John" Anselmo.
Ed Kowalski's 50's era A/Fuel Dragster featured a Lynwood Welding Chassis with a nitro burning, fuel injected 392 Chrysler Hemi for power. Notice the long, backswept "weed burner" style headers.
East Coast Drag Times Hall of Fame Story by Jim Hill
Billy Joel's classic 1982 ballad "Allentown" laments the decline of American industry, in particular its impact on Allentown, PA. For the late Ed Kowalski, 2015 East Coast Drag Times Hall of Fame inductee, Allentown carried an even more personal importance as it was where he "discovered" drag racing. A Reading, PA native, Ed's first exposure to acceleration motorsports came in 1954, at Convair Airport, where unused runway space became a quarter mile drag strip. A youthful Ed Kowalski tooled down the track in his chopped, customized '51 Ford convertible. His results were less than spectacular, but did sow the seeds for a lifetime of involvement with drag racing.
Ed was bitten deeply by the drag racing bug and he soon found kindred drag racing spirits. Together they formed the Fuel Injectors Car Club to share their common interest in building and racing homebuilt hot rods. In 1955 Ed built a Model-A Ford powered by a then brand-new 265 CID Chevy V-8. He ran the Model-A at Vineland, NJ, Manassas, VA, Mason-Dixon Dragway and other tracks in the region. By '57 he had claimed a Top Eliminator trophy at Old Dominion Dragway, Manassas.
Ed's drag racing was unexpectedly interrupted when he was drafted. After serving his Army enlistment time Ed returned home with a homemade dragster in tow. The car featured a Chrysler hemi with six Stromberg 97 carburetors mounted atop a Weiand "U-Fab" log style intake manifold, state of the art stuff for 1958.
In 1959 Ed answered the call of the NHRA Nationals, held at the new Detroit Dragway, just south of The Motor City. Detroit Dragway had been constructed by real estate developer and drag racing promoter Gil Kohn, and was one of the nation's first purpose-built drag strips. Kohn's company held weekly racing shows there until it was finally closed in the 1990's. Kohn of course realized a substantial windfall when he sold the land to Ford Motor Company, for expansion of a Ford plant.
Ed made the trip to Detroit not with the dragster, but with an Anglia B/Competition Coupe. Although Ed's success at his first NHRA Nationals was minimal, the Nationals was a learning experience that helped Ed to upgrade his race car, go faster and start winning.
Kowalski also passed another milestone in his career when he opened Ed Kowalski Speed Shop, in 1959, in Reading, PA. The new speed emporium stocked brand names such as Edelbrock, Weiand, Iskenderian Cams, Jahns Pistons, Grant Rings, and Mallory ignitions. Ed's knowledge of hot rod products also helped him to establish his shop as a distributor for those and many other brands, and both drag racers and circle track racers kept the shop busy.
Ed followed in 1961 with the "King Twig" A/Fuel Dragster. In 1962 he ran the King Twig car at the opening day race at Maple Grove Dragway. Ed hung a roadster bony on his dragster chassis and returned to the Nationals in '63, this time held at Indianapolis Raceway Park, where he ran in the A/Modified Roadster class.
In 1964 Kowalski wanted a taste of nitro racing and bought the "Outlaw II" AA/Fuel Dragster from east coast fuel standout Joe Nocentino. Kowalski renamed the car "007" after Ian Fleming's famed secret agent, James Bond. At Maple Grove Dragway the 007 car rewarded Ed with a strong 8.04 at 191 mph, excellent numbers for the time.
After running eight-flat Ed was confident that he could break into the Top Fuel Eliminator field at The '64 Nationals. The '64 Indy race was the first time that NHRA had offered Top Fuel and nitro at the Nationals since it banned the exotic, expensive fuel. The field was expected to be not only an "East versus West" challenge but was expected to draw the finest fuel dragsters from across the nation. Although he failed to qualify for the quick-16 field, Ed did go a couple rounds in the AA/Fuel Dragster class eliminations. That year the ultimate Top Fuel Eliminator title was won by Don Garlits, who won the AA/FD class, sat out the Labor Day finals and faced Jack Williams in the final. Garlits took the Top Fuel win but Ed Kowalski was far from being finished.
Ed was learning the vagaries of nitro racing quickly. In testing later at Detroit Dragway, he ran a stout 7.59-202. Again at Maple Grove, he ran Don Garlits in a match race. He remembered that he actually was faster than Big Daddy, but being late off the line cost him against Garlits. In September, near the end of the season, he did set the Maple Grove track record with an impressive 7.91.
Ed retired from drag racing in '66 to marry and start a family. After ten years of being away he returned in '75 with a front engine dragster and a small-block Chevy for power. His home track, Maple Grove, honored Ed in 1982 with a plaque and starting line ceremony as one of its original opening-day racers.
Ed continued to run his Chevy dragster and began building a race car with an entirely different goal in mind. Kowalski's new project was a roadster for the unlimited speed trials at Bonneville, Utah. Assisting Ed was his son, E.J. Kowalski and Ed's longtime friend, Jay Matz.
Ed and E.J. completed the roadster and ran the Bonneville meet in 1988. Ed and E.J. returned every year after to answer the siren song of flat-out, right foot-down speed on The Salt until Ed's passing.
In spite of their success at Bonneville, Ed and E.J. never abandoned drag racing. In 1990 Ed and E.J. built a Lynwood Welding dragster chassis into a nostalgia dragster, running events across the east coast and reacquainting with old racers from days past. In 1992 Ed and E.J. acquired Don Garlits' "Swamp Rat 33", Garlits' land speed record streamliner. They restored the car, and ran it a few times at Bonneville.
E.J. inherited Ed's car crafting skills and opened "Kowalski Customs" in Reading, with help from Ed. By '97 the business was growing fast enough to require more space and they moved into a new facility, again in Reading.
As a tribute to his dad's many decades in drag racing, E.J. built a replica of Ed's original 1955 Model-A Comp Coupe. Father and son staged several match races against each other at nostalgia events in 2006 and 2007.
Maple Grove Dragway, now one of drag racing's premier venues, honored Ed Kowalski in 2008 with a Maple Grove Walk of Fame placement and a brick engraved with his name.
Forever hooked on Bonneville, Ed and E.J. finally set a speed record with their nitro fueled, flathead Ford powered '29 Ford roadster. In August of 2010 Ed and E.J. returned from Bonneville and headed to Manassas, Virginia where Ed was presented with a plaque honoring his 1957 Top Eliminator win. Three days after they returned, Ed passed away at home.
Ed Kowalski's legacy was honored in 2012 with the Pat Bilbow (Lynwood Welding Chassis) Spirit Award, and in 2013, Ed and E.J. were honored as "Hardcore Enthusiasts" at Bruce Larson's Dragfest.
The East Coast Drag Times Hall of Fame is pleased to honor 2015 inductee Ed Kowalski, a true drag racing pioneer in his home state of Pennsylvania and the east coast.