Gassers: Those Hard-Riding, Hot Rod Good Guys From Way Out West
August 12, 2016
From Phoenix, Arizona came Johnny Loper's legendary "Lil Hoss" '48 Anglia A/Gasser. Loper's small-block Chevy powered car became a well-known advertisement for his Loper's Speed Shop. That later became one of the Southwest's largest and most successful speed warehouse operations. Along the way Loper moved from Gassers to the loud and expensive nitro Funny Car ranks where his bad, black Funnies were never a laughing matter. Here he makes a run at The NHRA Winternationals, Pomona, CA.
Story and Photo Captions By Jim Hill
For drag racers the Southwest region of the U.S. is Funny Car territory. Legends such as Kenny Bernstein, Raymond Beadle, Dick Harrell, Billy Meyer and Don Hardy hail from the region, along with many more equally well-known names. But the Southwest was and is a stronghold of full-body, Sportsman racing, especially in what were the Gasser and Modified Production ranks.
Along with those drag racing legends came equally famed Southwestern drag strips. Some have since passed on, victims of the out-crawl of the suburbs and accelerated real estate values. Others have survived and continue to serve area racers.
This week we take the opportunity to salute those Southwest drag racing heroes in the Gasser and MP ranks. As always, this list is incomplete, and some well-deserving racers have been omitted accidentally. So, sit back and enjoy!
This innocent looking, '55 Chevy C/Modified Production BelAir coupe was one of the nation's most feared MP cars in the 60's and 70's. It and its builder and driver, Carroll Caudle, hail from Amarillo, Texas, and are shown here at the 1969 NHRA Springnationals, Dallas, TX. The green and white '55 sports lettering for Caudle's shop, but contingency decals are carried only on the glass. Simple traction bars control rear leaf springs and Keystone Kustom Klassic wheels are on all four points. Dallas' high-rise luxury tower was state of the art in '69.
Running in the 11 lbs. per CID F/Mod Prod class, Caudle's '55 looks like it was driven through the gate, fresh off the street. National event class wins and Modified Eliminator titles were frequent achivements for the venerable '55. 
Revised G/MP class designation means Caudle was running the '55 in 12 lbs. per CID class. Glen Brown's color pit photo caught Carroll's 'Ol '55 resting between rounds. The legendary, multi-decade '55 is rumored to remain in Carroll Caudle's garage, safe in Amarillo! (Glen Brown photo)
The late Crawford Benham was a much respected and beloved Modified racer from Corpus Christi, Texas. Benham's career included an NHRA Nationals class win in G/Modified Production with a Camaro and his proven small-block Chevy combination. His G/MP class victory came at the 1980 Nationals along with many titles in Division 4. Here he makes a run with his C-1 Corvette.
California's Bill Thomas Chevrolet specialized in hot Chevys, including a Chevy powered, two-seat, sports car called the Cheetah. Here a Cheetah, running in A Modified Sports, makes a run at Phoenix, Arizona's Bee Line Dragway.
Joplin, Missouri's Harley Estes was a traditional Gasser racer for many years. Harley's 394 Oldsmobile V-8 powered '40 Willys had the classic Gasser up-front stance and factory steel wheels all around.
Olds engines were favored by many early Gasser racers, including the famed Stone-Woods-Cook team and Gene Adams, both from California. Here Joplin, Missouri's Harley Estes blasts off running A/Gas.
This classy Willys Gasser ran out of Don's Hot Rod Shop, in Tuscon, Arizona. A blown small-block Chevy motivated the '41 Willys in B/Gas Supercharged. Simple front straight axle and leaf springs plus Halibrand five-slot magnesium wheels all around show the seriousness of this car.
Back at Phoenix's historic Bee Line DragStrip this '41 Studebaker Gasser set out on another quarter mile run. Bee Line was one of the Southwest's most successful drag strips, hosting both AHRA and NHRA events over its lengthy career.
Henry Ford's classic '34 five-window coupes were popular Gasser material during the 1950's and 60's. Here the Ace Auto Parts sponsored '34 makes a run in B/Gas Supercharged, a 6-71 blown small-block Chevy providing the go-fast urge.
Austin, Texas's August "Hands" Hartkopf earned a great reputation for his hard running Street/Modified Eliminator race cars. Hands' E/Modified Production '55 Chevy panel truck ran in the 11 lbs. per CID E/MP class. Hartpkof's Austin Speed Shop sold parts, built engines and tuned.
 "Hands" Hartkopf gained his knickname from his huge hands, the result of a genetic condition. Those enormous hands were known to be very skilled at careful tune-up work or engine assembly as well as power-shifting a four-speed transmission.
Ray Doyon's '55 BelAir Sport Coupe was built to run in AHRA's D and E/Gas classes. Ray ran with sponsorship help from Thomas Brothers Performance, in San Antonio, Texas.
From Plains, Kansas came Larry Gowers and his unique, classic '32 Ford Victoria sedan. That's a trusty 301 CID, small-block Chevy with six Stromberg carburetors mounted atop a Weiand log intake manifold. Larry's C/Gas Vicky ran with sponsorship from Thompson Auto Electric.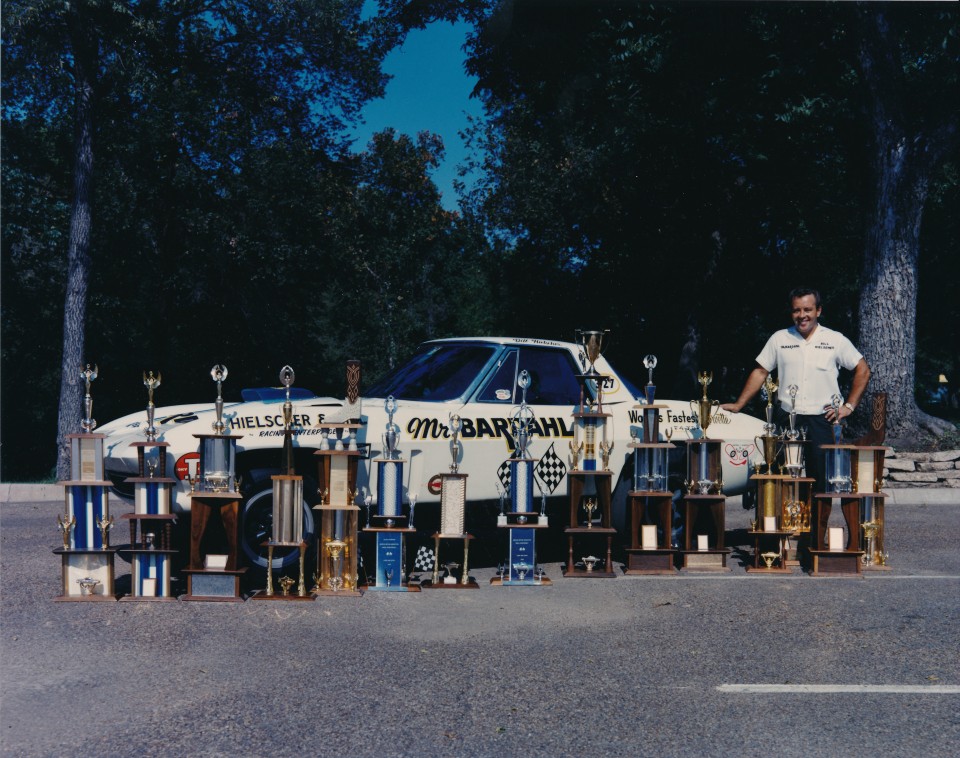 Bill Hielscher gained a national reputation as "Mr. Bardahl". Originally from Chicago, Hielscher moved to Dallas at an early age, fully embraced the Texas lifestyle and never looked back. His 327 Corvette started him in drag racing, and with it collected scores of national records and eventually, a fleet of race cars. Bill would roll into a major event with as many as eight different entries, hauled on a semi-trailer rig! In later years he ran Green Valley Raceway, a popular venue with racers and spectators.
Lynley Isonhood's '63 split-window Corvette ran an injected small-block Chevy in E/Gas. With engines and tuning from Baytown, Texas' The Wop Shop, Isonhood's bright red 'Vette was a Southwest killer in Modified Eliminator. (Photo from The Jim Hill Collection)
Comanchero's were feared outlaws in the old West. This D/Gas, '55 Chevy, from Waynesville, Missouri, was typical of the caliber of race cars from the Southwest region. Note the sporty whitewalls and short, fenderwell-exiting headers on the small-block Chevy powered Chevy 210 sedan.
Running out of Johnny Loper's Arizona Loper's Speed Shop, this interesting A/Gas Maverick has an injected engine, straight front axle and polished Halibrand mag wheels all around.
For several years Dick Maris ran this Corvette in Gas classes, and later switched to D/Altered. Maris became a force in Competition Eliminator with his small-block Chevy and five-speed trans. (Jim Hill photo)
Drag racing has always been about ingenuity and this four-door Falcon sedan is a perfect example of racing on a tight budget. The McLellan Brothers' "Humpin Henry" was built with economy and go-fast in mind. The Friona, Texas team ran a Ford "FE" 427 for power.
Willis Ragsdale's Chevy powered roadster won Little Eliminator at the NHRA Nationals in 1961. The Denton, Texas racer ran this Chevy powered roadster for many years, then built a new roadster for B/Street Roadster class. During his long racing career Willis won many class trophies and Eliminators using Chevy, Boss 392 Ford and 426 Hemi engines."Raunchy" was never pretty, but always fast.
Reher-Morrison Racing Engines has become an icon in the industry. Before they opened their Arlington, Texas shop, David Rehr and Buddy Morrison, college classmates, got together with Bobby Cross to run this C/Modified Production, small-block Chevy powered Maverick. Cross drove while David and Buddy provided the horsepower for many Modified Elim wins.
Solid rear-axle, C-1, pre-Stingray Corvettes became the darling of Modified racers in the middle 1970's due to their short wheelbase and aero advantages. The Kline-Mateer-Whitaker '62 coupe found E/Modified Production to its liking with this wheels-up launch. Those are Cragar's "Super Trick" lightweight aluminum wheels, favored by many Mod racers in the era.
Don Hardy gained legendary status as a trusted Funny Car, Pro Stock and all-around chassis builder, but he began his drag racing career running this '32 Ford three window Gasser in Little and Street Eliminator. The Floydada, Texas terror made serious noise in A and B/Gas with this coupe, shown here in the pits, 1962. Hardy's shop later built and sold hundreds of conversion kits for small-block Chevy V-8's into street Vegas, Monzas and S-10 trucks as well as Ford V-8's into Pintos and Bobcats.
Pete Smith's G/Mod Prod Corvette was another C-1 Modified Eliminator runner from The Great State of Texas. (For verification, ask any Texan!) Here Pete warms the tires at the NHRA Sportsnationals, held several years during the 70's. Beech Bend Raceway was the site, at Bowling Green, KY, at the hugely popular, Sportsman-only major event many wish NHRA would bring back. (Photo from The Jim Hill Collection)
As a driver few had the gift as much as Lee Shepherd. "Shepherd Heads", as sold and installed by Reher-Morrison were also highly valued for their power making abilities. Shepherd drove the R-M-S Pro-Stocks to several NHRA World Championship titles, but his driving in Modified was also legend. Here's a Shepherd ride, the Shioleno-Coleman F/MP Camaro as Shepherd adjusts the wheelie bars prior to another run. (Bill Truby photo)
Shepherd also drove the Reher-Morrison Modified Eliminator Corvette, drilling the 'Tree and flawlessly shifting the five-speed manual transmissions. R-M-S became a world beating Pro-Stock power, but their roots were set early in Modified Eliminator. Those lightweight, spoked wheels were "Flys", from Motor Wheel.
'40 Ford coupes have always been prized classics for street rods and in an earlier age, race cars. Here this Utah based '40 running in B/Gas out of Stag's Rod & Custom heads downtrack with injected big-block Chevy urge. All sorts of classic things are at work here… the straight front axle, no-hood front end and mile-long ladder traction bars.
Back again at Arizona's Bee Line Dragway with this C-1 Corvette. Note mile-high straight front axle stance, American mag wheels and skyscraper hood scoop!
What's not to like about a '55 Chevy Gasser? This 210 sedan out of Rundle's Speed Shop, in Tempe, Arizona, is powered by a big-block Chevy with tall Tunnel-Ram intake and a pair of Holley four-barrels. Narrow Cragar S/S wheels up front and wide, deep offset Cragars at rear say it all.
Jerry Underwood's Denver, Colorado based, A/Gas '48 Anglia was never an underdog. A 427 big-block Chevy moved the English import swiftly downtrack.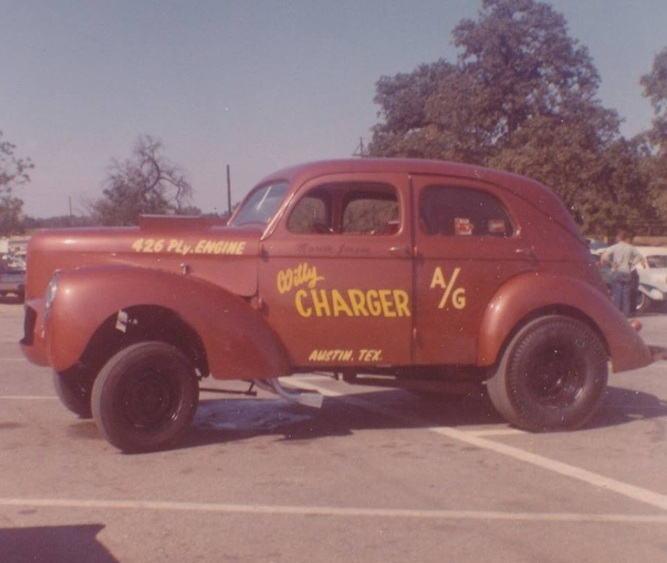 The popular "Willy Charger", Austin, Texas based, four-door Willys was anything but a family sedan! A 426 Max Wedge "B" V-8 provided plenty of power for A/Gas combat across the Southwest. Painted steel wheels and homebuilt suspension are evident along with M&H "pie crust" slicks.
Ron Regier's B/Gas '40 Willys ran across the Southwestern states in the 60's and 70's. The clean '40 called Omaha, Nebraska its home and received sponsorship from Charley's Speed & Machine and Valvoline Racing Oil for its 427 CID, big-block Chevy powerplant.
From Denton, Texas came Bill Wendt's '32 Ford tudor sedan. Wendt traveled far for an "away game", running at the NHRA Nationals, Indianapolis.  Wendt's Hilborn injected, big-block Chevy engine pushed the tudor in B/Gas class. Classic pre WW-II Fords and Chevys remained popular until the mid 70's when the aero advantages of late model cars could no longer be ignored.
Durant, Oklahoma's Glen Self gained an early reputation as an engine builder and great racer with his famous "Stormin Six" '67 Camaro. With this humble, Chevy inline six cylinder poowered H/Modified Production Self claimed the 1969 NHRA Nationals Street Eliminator title. Today Self's Racing Engines provides reliable power for many Southwestern drag and circle track racers. (Larry Langston photo)
In the Street Eliminator final Self's slower H/MP '67 Camaro got the handicap head start over Carroll Caudle's C/MP '55 Chevy. Self prevailed in this battle between two drivers who faced off often in events across the Southwestern states. Both ran in Dale Ham's NHRA Division 4.
NEXT WEEK: Gasser Racin' Up In The Northwest