Hubert Platt: The Legend of Southern Drag Racing Lives On
January 7, 2016
Lined up and ready to race for Little Eliminator Sunday afternoon at Newton County Dragstrip, near Covington, GA. Hubert Platt's potent and much-feared Terminal Transport '37 Chevy B/Gasser and '57 Chevy C/Gasser are shown at far-left. Newton County hosted many NHRA Southeast Division 2 points events in the late 50's and early 60's.
Story by Jim Hill
Hubert Platt was a member of the inaugural 2002 East Coast Drag Times Hall of Fame. It was fitting that Hubert should be in that first group of inductees. His Hall of Fame induction was but one of several honors Hubert's five decades-long career produced. The legendary southern drag racer and an icon of drag racing's early days passed away September 26, 2015, at the age of 83.
Held each year, on the second weekend of October, in Henderson, North Carolina, the Hall of Fame Weekend was attended each year by Hubert. Racers and fans at the Henderson event were always welcome and entertained with Hubert's often ribald yet hilarious tales of drag racing's formative years. His Hall of Fame audiences were always attentive, the stories of events and personalities varied, yet no one enjoyed the interaction with racers and fans more than Hubert himself!
Hubert's "Hue-Baby" nickname came later in his career, derived from his Southern drawl and off-center, homespun sense of humor. He was even better known for his "Cool Hand Luke" personality and his continuously confident smile, no matter how dire the circumstance.
Beginning in 1964, Platt's Ford race cars became known as "Georgia Shakers". Although Hubert's earliest race cars were Chevrolets, (Chevys were often called "Shakers") Hubert switched to Ford when his Chevrolet factory support was discontinued.
Ford racing program officials wasted no time securing Hubert to campaign Fords. Georgia had always been a stronghold of sales for Ford cars, pick-up trucks and tractors. His first Ford race car, a 1964 427 Thunderbolt Fairlane became "The Georgia Shaker".
At the time of his death, Hubert was the surviving member of the pioneer drag racing Platt brothers, from Atlanta. His brother Huston, a well-known East Coast Funny Car racer, and also a HOF member, passed away in 2011.
Although they spent most of their lives in Georgia, both were born in Conway, South Carolina. The Platt family moved to Georgia in 1958, to be near the growing work and business opportunities available in Atlanta.
Like many other southern youngsters, Hubert gained car building, driving experience and spending cash by transporting illegal moonshine whiskey. North Georgia's legendary backwoods distilleries were known for brewing high quality "white liquor", and there plenty of thirsty customers in the Atlanta area. Hubert pursued that exciting yet risky career for almost three years until a Revenue Officer's untimely roadblock landed him in jail. The money it cost to free him and the unsavory prospect of spending several years in a federal prison halted his career as a 'shine runner.
The thrills and financial rewards from building and driving fast moonshine haulers was alluring, but common sense told Hubert it was time to abandon this risky career path. The thrill of driving and building fast cars remained however. That urge pointed him first to street racing, and then to drag racing on sanctioned Atlanta area strips.
The Brothers Platt, Hubert and Huston, both began their drag racing careers with Gassers. These traditional race cars were closest to the Southern favorite of a full bodied car with a hot-rodded engine. Home base for the brother's racing activities was Hubert's Texaco, a full-service gas station and garage leased and operated by Hubert. Speed work and tune-ups for racers were always in demand as well as repairs on trucks and local family sedans were available at Hubert's Texaco.
Hubert's infamously fast, '37 Chevy B/Gas coupe sported a 301 CID small-block Chevy, a pair of Carter AFB four-barrels and a four-speed, manually shifted transmission. "Hubert's Texaco" was of course lettered on the car. The '37 Chevy B-Gasser was a frequent winner of Little Eliminator trophies and cash at tracks in Georgia, Tennessee, Alabama, Florida and The Carolinas.
Next came a sponsorship opportunity from Terminal Transport, an Atlanta-based trucking firm. Terminal not only hauled freight, they were also major transporters of new vehicles built in GM's Doraville, Georgia vehicle assembly plant. Along with the financial help Terminal also supplied a four-car, single-axle auto transport semi-trailer and tractor. This unusual rig carried Hubert's B/Gas '37 Chevy, a C/Gas '57 Chevy, and other cars. The transport and both race cars were painted in Terminal's well known checkerboard paint scheme. The Terminal Transport racing team may have been the first to use a semi-trailer rig to haul drag race cars.
Legends: Hubert Platt (center) and Dyno Don Nicholson (right) enjoy the trophy from a win with "Lil General", a 1962 409 HP, 409 Chevy driven by Hubert. The car ran out of the Nalley-Nicholson Dyno-Tune shop inside the Nalley Chevrolet Company, in Atlanta. 
When Hubert's deal with Terminal ended he stepped away from Gassers and was soon building and running his own late-model Chevy, a hot 1961, 409 Chevy. Hubert's success with that car and a '62 409 Chevy earned him a deserved reputation as a clever car and engine builder and skilled tuner/driver. By 1963 Hubert's reputation helped him acquire a '63 Impala with the rare factory Z-11 option.
The Z-11 option package provided aluminum front fenders, hood, inner sheetmetal, and bumpers, reducing the Impala's stout 3,700 lb. curb weight to 3,400 pounds. The option also delivered a twist on the revered yet disadvantaged 409, a "W Series" engine that displaced not 409 CID, but 427! The Z-11 "427" had forged pistons with a factory 11:1 compression ratio, forged steel rods and crankshaft. The Z-11 heads also had larger ports and mounted a cast aluminum intake with a pair of the largest AFB Daytona-Series four-barrel carburetors. These upgrades were enhanced by a more radical factory solid lifter camshaft. Only 57 of the exotic Z-11 option, 427/430 hp cars were built. These were made available only to those with Chevy factory connections and proven racing success.
Such exotic racing options were a sign of the times. As early as the 1950's Detroit's major automakers recognized that both stock car circle track and drag racing provided a means of spurring vehicle and parts sales. These ever more powerful parts were ceaselessly promoted and advertised by Big Three marketing executives eager to exploit the buying public's thirst for raw power. These factory hybrid racing machines were classified as "Factory Experimental", and divided into three classes according to the advertised horsepower of their engines and claimed shipping weight. At a factory-rated 430 hp, (true horsepower was close to 500!) Hubert's '63 Impala Z-11 was classified as A/Factory Experimental.
A few selected others obtained '63 Chevy Z-11 A/FX cars. These included Bill Jenkins, Dave Strickler, Butch Leal, Don Nicholson and another southern team from Burlington, NC, Sox & Martin. Ronnie Sox and Buddy Martin raced out of a gas station called "Sox's Sinclair" where hot rod was the language fluently spoken.
Hubert's Z-11 was an 11-second, 120 mph contender, winning many events in the Southeast and establishing Hubert as a driver, tuner and preparer of hot stockers. In spite of Hubert's success with his '63 Z-11, it was also his final Chevy effort. In early 1963 GM's top brass decreed that all GM divisions would cease racing support. That edict left many faithful Chevy racers without support, including Hubert.
Hubert's first "Georgia Shaker" was this '64 Thunderbolt, shown here at the NHRA Nationals. The Thunderbolts were powered by 427 FE engines with dual four-barrel carburetors fed cold air through headlight openings. Hubert started out in S/S, but soon lightened-up by gutting the interior, installing injectors and nitro fuels to compete with match racing foes.
Hubert's talents didn't wait on the shelf long. Ford quickly reached out and signed Hubert, outfitting him with a 427 Medium Riser, "FE Series" 427 powered '64 Fairlane two-door sedan. The "Thunderbolts" were built by Ford contractor Dearborn Steel & Tubing, and intended specifically to win drag races.
Hubert's new T-Bolt ran first as a legal Super Stock car. The competition quickly shoved the bar higher. To maintain competitiveness Hubert's A/FX Georgia Shaker began sporting Hilborn fuel injectors with long velocity stacks that protruded half-way to the height of the roofline.
Super Stocks ran gasoline and carburetors. Hubert's Hilborn fuel injected engines ran on nitromethane and alcohol, dictated by a suddenly prosperous match race schedule that kept A/FX cars running several times each week. Drag strip promoters were eager to book match races and the heavily advertised match-ups were packing grandstands at tracks large and small.
These often tiny backroad tracks allowed Hubert's flair for showmanship and promotion to emerge as a highly marketable attribute. Track owners coveted "butts in seats" and concession stand sell-out's. Paying spectators flocked to tracks where the cars were fast and dangerous and the show entertaining. The new breed of racers responded and across the land, tracks booked and advertised these drag racing heroes.
Most match races featured a series of pre-race burn outs, performed through powdered dance floor rosin. This ritual allowed both drivers the opportunity to lay down long, sticky, black tire tracks. Hubert's brand of burn outs were performed with his driver's side door held open, even when the tires hooked and the car did a wheelstand! Crowds loved it and so did the track promoters. Hubert became especially animated when a microphone was passed to him for pre-race live interviews. He easily rose to the occasion, taunting and denouncing his opponent and trading barbs, all to the delight of the paying spectators.
Hubert's persona of a cagey, brash southern match race hustler soon led him to acquire the nickname "Hue-Baby" Platt. Hubert's antics were always tongue-in-cheek and enjoyed by all. Fellow racers knew Hubert as a reliable, skilled driver, and were always comfortable when lining up next to his "Georgia Shaker" race cars.
Predictably, the competition was advancing and the cars were going faster and quicker. To maintain his competitive edge Hubert parked the Thunderbolt for a shorter wheelbase, lightweight Ford Falcon into which he dropped his 427 wedge FE engine. Both Hubert and Phil Bonner campaigned similar 427 powered Falcons extensively, traveling the match race trail and adding to the racing legends of both Atlanta based racers.
The Falcon was followed by a '66 Mustang, an altered wheelbase car built for Ford by Holman & Moody. Running in NHRA A/XS class with an injected, unblown, nitro-burning 427 SOHC "Cammer" engine, the car recorded a best of 8.49-171.42. Only the game-changing, Logghe chassis, flip-top Mercury Comets of Dyno Don Nicholson and Eddie Schartman were faster.
By 1966 A/FX cars evolved into early Funny Cars. This stretched '66 Mustang was built by Holman-Moody with a SOHC 427 Ford "Cammer" running on healthy nitro percentages. Paul Harvey Ford sponsored the car. Hubert's major events plus healthy every-weekend match racing schedule proved profitable. 8.49-171.42 was best for the long-nose Mustang.
The match race circuit evolved further when some cars began running supercharged, nitro-burning engines. That was followed by a period of booming engine explosions and transmission failures, searing fires and crashes. Several well-known drivers were injured and burned seriously, and a few paid the ultimate price for faster cars.
The A/FX cars had become all-out race cars, now known as "Funny Cars", due to their decidedly non-stock, "funny" appearance. There was nothing humorous about the rash of accidents, fires, injuries and fatalities. The carnage and a changing marketplace led Ford to rethink its position in racing. The decision was made to return to factory supported race cars that were indeed "stockers".
Hubert found himself working again with carburetors and gasoline fuel, running a 1967 Ford Fairlane in NHRA Super Stock Eliminator. This was a factory-built "R-Code" Fairlane, with a 427 FE engine, lightweight components and four-speed manual "Top-Loader" transmission. Hubert's Fairlane was sponsored by Paul Harvey Ford, long-time Indianapolis dealer and proved very formidable at major events. That was followed by a 428 Cobra-Jet powered Mustang, an equally successful Super Stocker at majors.
After Ford dumped its Funny Car program, Hubert was assigned this 1967 Fairlane, an R-Code 427 powered car for Super Stock. Back again running carburetors and gasoline, Hubert was happily power-shifting the Top-Loader four-speed, mixing it up with Ronnie Sox, Bill Jenkins and other S/S stars.  
Over on the other side of Detroit, Chrysler's Dodge and Plymouth division had likewise abandoned the volatile Funny Cars for Super Stock and Stock classes. Instead, they fielded a nationwide touring road show that went to dealerships and taught the basics of car prep, engine tuning and performance in showroom-bought musclecars. The Chrysler "Performance Clinics" were a huge hit, especially with dealers eager to sell high-profit musclecars and go-fast parts.
Ford responded to dealer pressure for a similar program, and quickly assembled their own answer, the "Ford Drag Teams" in 1968. A hefty portion of the resources previously directed at fuel Funny Car programs was marshalled to the new Ford clinic teams.
Ford counter-punched Chrysler's Performance Clinic program with the Ford Drag Teams. Hubert and Randy Payne teamed up for several hundred dealership appearances. Ford Louisville Line hauler and trailer carried a 428 Cobra-Jet Mustang and CJ-428 Torino to Ford's "Going Thing" clinics across the Southeast.
Ford's Southeastern U.S. region was capably covered by Hubert Platt and Randy "Big Stuff" Payne. Payne hailed from Rome, Georgia, and was both a friend and successful fellow racer. Together, the personable duo of Platt and Payne visited Ford dealers and touted the performance attributes of Ford high performance vehicles and parts. They were accompanied by their major event Super Stocks, Hubert in a 428 Cobra Jet Mustang and Payne driving a 428 Cobra Jet Torino.
The Ford clinic program's popularity soared. The Platt & Payne team was constantly in demand. Scheduling was created to allow the team to race at a local drag strip or major event on the weekend while hosting clinics at dealerships during the week. Both cars were transported by a specially built Ford "cab-over-engine" Louisville Line heavy duty truck with matching tag-along trailer. Displays included cut-away engines, handout literature and of course, Hubert and Randy conducting the programs while dealership sales personnel handled orders.
Ford's Drag Team featured vehicles and parts available at Ford dealers. Hubert ran this 1969 Cobra Jet-428 powered Mustang. Schedules allowed clinics during weekday evenings, then racing at local tracks or major events. The Platt & Payne team was in high demand by dealers eager to host a Ford Drag Team event.
Once again Ford's priorities changed. When the wild and wooly decade of the 60's finally ended the Dearborn brass had shelved the clinic program. In 1970 Hubert remained Ford-backed, moving into the newly created, wildly anticipated, heads-up racing Pro Stock ranks. The Georgia Shaker became a Ford Maverick with 427 SOHC Ford power and later, a 429 Ford Shotgun Boss Hemi.
Compared with nitro burning Funny Cars, whose costs had exploded due to fuel and parts costs, early 70's Pro Stocks were reasonable to build and race. They also provided affordable name driver match race bookings for track promoters. They were also great for the age-old drag strip rivalries based on vehicle makes.
In Pro Stock Hubert was once again back in his element where he found it easy to book match race dates. Although he qualified and ran hard at major events, his efforts did not produce a Pro Stock winner. The Georgia Shaker and Hue-Baby Platt's match race popularity and bookings soared.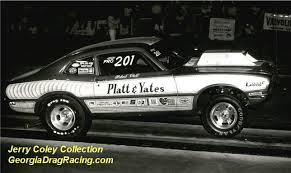 Pro Stock was brand new in 1970 and Hubert ran this Maverick, powered by a 427 SOHC "Cammer". Pro Stocks were very popular match racers. Here Hubert launches after burning through rosin. This pre-race procedure was favored by match racers. (Marty Johnson photo, Georgia Drag Racing, courtesy Jerry Coley archives)
The rosy days of affordable Pro Stock racing succumbed to the whims of competition, and by the late 70's, the once friendly costs had skyrocketed. Competitive Pro Stocks required heavy engineering and financial support with resources available only to Detroit's major auto makers. The industry had other issues to address. Such gremlins as emissions, vehicle safety and fuel economy took precedence over winning on Sunday. Ford's leadership decided that NASCAR offered more fertile grounds for its racing budget, and drag racing support was abandoned. Hubert and many others were cut loose and left without the resources to continue.
Hubert soldiered on alone for a short time before finally deciding to walk away from drag racing for good. He reluctantly hung up his helmet and firesuit in 1977. His last Pro Stock race car, a 351-C small-block powered Pinto, was sold along with all his support equipment. Hubert continued to work, but outside racing, until finally retiring in 1993. He and his family moved north of Atlanta, to Forsyth County, and he resided in Cumming, Georgia until his death.
Hubert (left) and fellow Hall of Fame member Jerry Coley enjoy a light moment in front of the Sheriff's Office with a Mason Jar of purest Georgia spring water. Hubert's days as a shine-runner ended as a youth. Instead, he pursued a professional drag racing career that made "Hue-Baby" Platt and his "Georgia Shakers" a Southern drag racing legend. 
Hubert Platt enjoyed a long and prosperous lifetime and a stellar career as a drag racing pioneer. He was inducted into the NHRA Division II Hall of Fame in 1986, the Super Stock & Drag Illustrated Hall of Fame in 1995, the Georgia Auto Racing Hall of Fame, The Old Racers Reunion Hall of Fame in 2003, the Super Stock & Drag Illustrated Magazine Hall of Fame in 1995, and the East Coast Drag Times Hall of Fame in 2002. Hubert was also specially honored when he was named Grand Marshall at the 2001 NHRA Southern Nationals, Commerce, GA.
Hubert Carlyle Platt was born December 8, 1931, and passed away September 26, 2015. Hubert's eternal legacy will forever remain the many fans who loved his great driving and entertaining drag racing showmanship. He is survived by his wife, Linda, and three children from a previous marriage: Annette Platt Royal, of Medford, OR; Hubert Platt, Jr., of Woodstock, GA; and Timothy Allen Platt, of Atlanta, GA.