Larry Lombardo: From Pro-Stock Performer for "Grumpy's Circus" to Race Motor Maestro
December 22, 2015
2015 East Coast Drag Times Hall of Fame inductee Larry Lombardo's career as a winning race driver spanned three decades. Today Larry is successful, respected race engine builder for drag racing and circle track clients in an area covering several Northeastern and North Central states.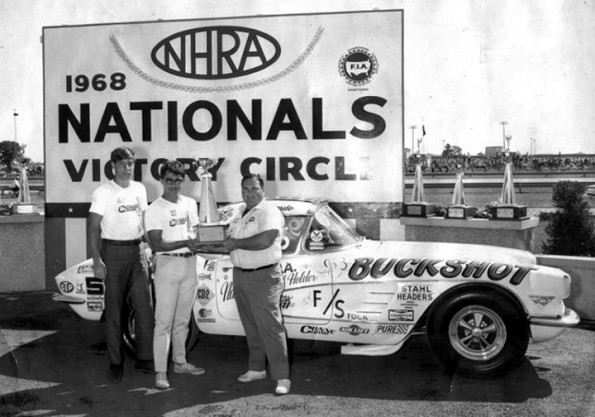 Larry Lombardo's national event career began at the age of 19, when he took F/Stock class and then Stock Eliminator at the 1968 NHRA Nationals. The Corvette was built by Larry and his dad, Joe, and powered by a 283/270 hp small-block Chevy built by Roger Sinistri.
Lombardo drove several different cars for Jenkins, including this Monza. For match races and IHRA "Mountain Motor" Pro/Stock events Larry and colleagues at Team Jenkins would drop in a 496" big-block with tall snorkel hood scoop and a pair of Holley 4500 four-barrel carburetors.
Larry Lombardo and Wayne Gapp staged one of Pro/Stock's most memorable finals at the NHRA Summernationals. Lombardo stopped Gapp in the "Tijuana Taxi" four-door Maverick with 351-C. Jack Roush is today one of NASCAR's best known and most successful team owners.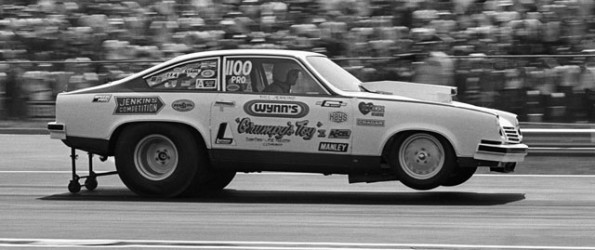 Lombardo began working for Bill Jenkins at The Grump's Malvern, PA shop. He quickly moved from race car maintenance to cylinder head and intake manifold prep before several years as Jenkins' No. 1 driver. Larry drove first in match races and later, major events. Here Lombardo wheels Jenkins' Vega on a wheels-up run at an NHRA major event.
Story by Jim Hill
Larry Lombardo is best known for his several years' employment as a very successful Pro/Stock driver for "Team Jenkins", the Chevy juggernaut captained by the late Bill "Grumpy" Jenkins. But those years as Jenkins' primary driver are only a bit part in the story. There's so much more than just-Jenkins to Pennsylvania native Larry Lombardo.
Actually, Larry Lombardo's drag racing career as a driver began somewhat clandestinely, at the tender age of just 14. Lombardo was racing modified karts, but his parents were leery of the scary-fast, down-in-the-dirt buzzbombs. Somehow, they decided that four wheels were better suited and considerably safer for the teenaged Lombardo.
Larry's dad Joe Lombardo sort of "set the table" for son Larry's racing career. Joe owned Joe's Amoco, in Exeter Township, PA. Joe's Amoco was a busy service station in the days when such establishments did mechanical work, pumped gasoline and generally tended to any ailment involving cars and trucks. Joe Lombardo's mechanical knowledge and experience were considerable and Larry proved an eager student. Still, Joe wanted his son to learn the true nuts and bolts of building a "real race car". That could only be accomplished with a heavy investment of "sweat equity" and hands-on, hard work.
As a starting point they located a 1961 Corvette in need of lots of the things the father-son duo was capable of. The Corvette was a good choice, especially for NHRA's "Stock Sports" classes, or for Stock Eliminator. Although Corvettes were available with the Rochester mechanical fuel injection option in 1961, the engine's 283 hp rules factor was considered to be uncompetitive. Instead, they built a 270 hp, 2×4 carbureted 283 Chevy to run in NHRA's C/Stock class, in Stock Eliminator.
The 270 hp option was actually a "sleeper" engine with a soft hp rules factor. It included the famous Zora Arkus-Duntov "097" solid lifter camshaft and an aluminum intake manifold that mounted a Carter WCFB four-barrel carburetor. Properly tuned and prepared, the 270/283 could easily pump out 325+ hp. It was a serious engine that was well suited for a number of different NHRA Stock classes.
Lombardo's match-up with the four-speed '61 Corvette stocker was akin to sausage gravy on biscuits. Their engine had been built with careful attention to true engine "blueprinting", with the objective of squeezing every last horsepower from the little Chevy V-8. The car required minimal suspension tuning, just a set of traction bars. These controlled leaf spring wrap-up and planted the tires under hard acceleration. The rear suspension was treated to a set of fresh race shocks plus a set of sticky, two-groove M&H Racemaster "cheater slick" tires out back. Unfortunately, the M&H tires were limited to a mere 7" of tread width by the restrictive Stock Class rules. They may have been made of race rubber compound, but the skinny tread width meant careful starting line performances lest the 7" skins break loose and give up the race.
"We bought the Corvette used for $1,500, and had $600 in the engine. That doesn't sound like much compared to today's prices, but we bought the right parts, paid extra attention to all the little stuff, like making sure all the clearances were perfect. Roger Sinistri, a well-known and really good engine builder from Reading, was also a huge help with that engine and others we ran."
"The 283/270 was a great combination that was easily tuned, very consistent and the engine stayed together. Over the years we probably made over a thousand runs and won a lot of money with that car", Larry reflected.
Running at their home track, Maple Grove Dragway, and at Capitol Raceway, 75-80 Dragway and Numidia, Lombardo was soon winning Stock Eliminator trophies. Mind you, NHRA's Division One had a legion of super-sharp Junior Stock competitors that were considered to be some of the nation's toughest. It was also somewhat alarming that this success came before Larry had obtained a legal Pennsylvania state driver license!
"We knew the track owners and they knew I was a safe and already experienced driver, so they just let the license thing kind of slide. We ran the car as often as the weather allowed. Our car was so reliable and consistent we made as many runs as we could squeeze into a day at the races. We were always trying some little trick to go just a bit quicker. I would typically go to the track with a full tank of gas and we would make so many runs that it would be down to about a quarter tank when we finally ran rounds in Stock Eliminator!", Lombardo remembered.
Joe and Larry decided to enter the car at the 1968 NHRA Nationals, in Indianapolis. By '68 NHRA had stretched and added to the earlier classes, placing the car in F/S. It was Lombardo's first time at the Nationals, drag racing's premier event, with all its legend and history.
The teenaged Lombardo was unfazed by the packed grandstands and the full spectacle of The Nationals. He buckled in and went about his business like a seasoned pro. Several rounds of F/Stock class racing later Lombardo had won his class, and was now the F/Stock class National Champion.
After endless rounds On Labor Day Monday, Lombardo found himself on the line for the final run of Stock Eliminator. He saw nothing but the Christmas Tree. After three flawless full-throttle shifts the win light came on in his lane. On the Nationals winning final run Lombardo stopped Dave Duell's big, honking 426 Max Wedge powered "Drag-N-Wagon" from Ohio. Larry Lombardo had won his first major NHRA drag racing event win at just 19!
A couple years later they sold the Nationals winning Corvette and set their sights on preparing a '68 Chevy Nova. The Nova was initially built with a 350 small-block, Chevy factory rated at 275 hp, for H/Stock.
The car and engine combination was chosen in the best Stock Eliminator tradition, because that particular car could run a number of different Stock classes. A "mix and match" with engines, horsepower ratings, transmission selections and weights created flexibility in choosing the class with the best edge for Stock Eliminator racing. Lombardo soon resumed his winning ways and began piling up class and Eliminator victories. Lombardo's success as a driver caught the attention of legendary Chevy racer Bill "Grumpy" Jenkins.
Jenkins had built a national reputation running and preparing cars for Stock classes, then Super Stock, and finally, the newly created Pro/Stock class. In 1970 Jenkins swept the early season events in both NHRA and AHRA, and won more than $250,000 that year! When Jenkins switched from big-block Camaros to a small-block powered Chevy Vega the result rocked the drag racing world, and put Jenkins and his race cars at the top of every track operator's "Must Have" list for match race bookings against other established Pro/Stock heroes.
"Jenkins was at Maple Grove, running a match race, and came up to me and asked if I wanted to make a run in his Pro Stock car. Of course I said 'OK' and jumped in. I'd never driven a coil-over car but I ran the numbers Jenkins wanted and he hired me as a crewman. I initially did race car prep getting the car ready to travel. Driving came later. That was in 1972.
I was used to doing this on my own cars, and Bill soon realized he could trust me without double-checking everything himself. I also started working on heads and other components there in the shop. I was also careful to watch and learn as much as I could from Jenkins and all that went on there in the Malvern shop", added Lombardo.
Lombardo's first race driving assignment came in a match race in 1973. Lombardo began filling in for Jenkins, but only in match race competition. Jenkins continued driving the car at major events, where the eyes of the public, and of the GM executives who unofficially supported Jenkins' racing, were focused. When Lombardo stepped in Jenkins established the ground rules, making it clear that "…Chevrolet expects you to win, nothing else will do." That pressure might have been too much to handle for many, but Lombardo placed the weight on his young shoulders, and never looked back.
By 1974 Lombardo was a seasoned Pro/Stock match race driver. That summer his major event driving career opened at the NHRA Summernationals, at Madison Township Raceway, near Englishtown, NJ. The Summernationals had become one of NHRA's largest and most successful events, drawing overflow crowds from the nearby "Metropolitan Big Apple" of NYC and its suburbs.
Lombardo went about his business with workmanlike precision until only one car remained between him and his first NHRA "Wally" trophy. In the final Lombardo edged Wayne Gapp in the Gapp & Roush "Tijuana Taxi". This was a rules-inspired, unlikely looking, four-door Ford Maverick powered by a Jack Roush built 351 Cleveland Ford. The G&R "Taxi" had been cleverly built to fit the crazy Pro/Stock rules that seemed to change every few weeks.
The final run of Pro/Stock Eliminator was a milestone for the young Larry Lombardo. His first major event Pro/Stock victory was also the first major event he entered as a professional driver!
Numerous event wins and titles followed, including the '76 NHRA Gatornationals, at Gainesville, Florida, where Larry beat Warren Johnson. He won again at the '77 NHRA Winternationals, defeating Dyno Don Nicholson and several others in Jenkins' small-block powered Chevy Monza. Lombardo remained in the driver's seat with forthcoming editions of Jenkins Competition race cars, Gen II Camaros. These ran a with small-block and big-block power, to meet the ever-changing Pro/Stock rules plus "Mountain Motor", big-displacement big-blocks for match races and at IHRA events, where engine rules were more liberal. In all, Lombardo scored 14 major event titles during his career with Jenkins. Included in this impressive run were an NHRA World Championship in 1976 and AHRA in 1977.
Lombardo's days with Jenkins ended abruptly, after the finals at the 1979 NHRA Nationals. An untimely red light against arch-foe Bob Glidden led to boiled-over tempers and emotions following the especially painful defeat. Jenkins and Lombardo had words and Lombardo quit before they left the IRP track.
"Jenkins gave me a chance to drive, prepare the race cars and work in the shop, learning what it takes to make power. In spite of his gruff and grumpy exterior, Bill was a very personable man, once you got to know him, and he knew you. Of course, he always did what was best for Bill Jenkins, but we were still friends, even after I left and went on my own".
Still scratching the itch, Lombardo acquired a partner and built his own Pro Stock, an '80 Camaro built by renowned chassis builder Don Ness. When the partnership soured Lombardo built an '81 Camaro and had limited success. The technological and financial resources needed to compete had by that point leap-frogged the class.
NHRA turned the Pro/Stock game upside-down when it announced the 1982, 500" rules package. Lombardo realized that his balance sheet couldn't support the change to 500" big-block equipment. Larry made the difficult yet logical decision to abandon Pro/Stock racing as an independent. He sold his race car and its trusty ramp truck hauler.
"That ramp truck deal was something else", he remembered.
"The truck was one of Lou Oleynik's Chevy box trucks, built in Lou's Port Huron, Michigan truck body shop. What made it unique was that legendary Funny Car racer Jungle Jim Lieberman had at one time owned it. It was a good truck and I bought it at a right price. I used it for a couple years and ended up selling it for almost twice what I paid for it, just because it had once been Jungle's hauler!"
Lombardo began making plans for his after-driving career. He located an attractive property with a house and a large concrete block workshop outside Bernville, PA. The tract was in rural farm country, but not too far from Reading, PA. He bought the property with funds generated from the liquidation of his racing assets, and began acquiring precision engine machining equipment. Larry Lombardo Race Engines was thus born, and continues to thrive in the same location today.
"I have a really solid customer base of about 120 clients. Most of them have been with me for several years and they return after each season is finished. I still do some drag racing engines but much of my work comes from the dirt circle track racers in this region. I work every day out in my shop. The best part is I still enjoy doing the work and building engines that my customers win with and trust me to build and refurbish".
The East Coast Drag Times Hall of Fame is proud to include journeyman Pro Stock driver and successful racing engine builder Larry Lombardo as a member of its 2015 class of inductees.