Louis Chevrolet: Racer, Engineer and Creator of the Bowtie Hot Rod Legacy
January 28, 2016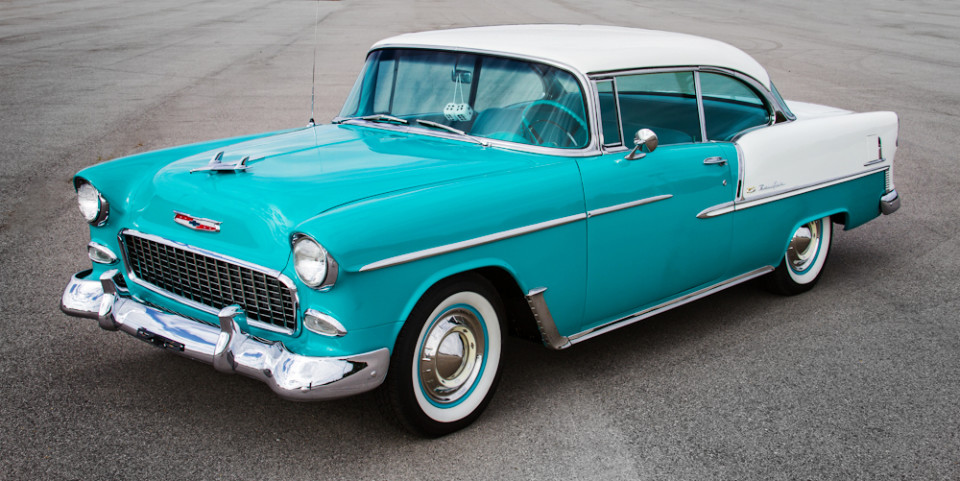 Louis Chevrolet died in 1941, fourteen years before the introduction of the landmark 1955 Chevy and the 265 Chevy small-block V-8. The '55 introduced the modern V-8 Chevy engine, but Chevrolet offered a V-8 engine as early as 1914! The '55 "Shoebox" design was an immediate hit and remains an ageless classic.
Story by Jim Hill
Chevy fans are well-known for their loyalty to Chevrolet and the Bowtie brand. In spite of this fanatical brand affection, there remains much unknown about Louis Chevrolet, the man whose name is most closely associated with the phrase: "America's Favorites: Baseball, Hot Dogs, Apple Pie and Chevrolet"?
Although Louis Chevrolet has been deceased for nearly 70 years, his name continues to identify America's most successful car and truck brand. That iconic brand, Chevrolet, is also known for its milestone influence on motorsports and the car hobby. Louis Chevrolet died nine years before the introduction of the ubiquitous small-block Chevy V-8, but his name was applied to the auto industry's most successful and longest running family of engines. First introduced in 1955, the small-block Chevrolet V-8 and the '55 Chevy together have dominated the auto industry and all modern U.S. motorsports. Chevy power, in all its different forms has been applied to more competition and enthusiast vehicles than any other make. 60+ years later, the venerable engine and the Chevrolet brand remains hugely popular among car and truck buyers and even more so, racers.
The small-block Chevy has been a favorite since 1955. By 1957 the 283 sported "dual quads", a solid lifter cam and Power-Pack heads. That configuration was rated at 270 hp, and good for 7,000 rpm. Fuel injection was also available, delivering 283 hp, the U.S.'s first "One HP per Cubic Inch" engine!
Hundreds of thousands of races have been won and continue to be won by Chevy engines. Even more street rods, musclecars, and restorations use Chevy power in those iconic "Tri-Five" 1955-56-57 Chevys have remained enduring classics. Although the original Gen I small-block (262-400 CID) is now finally out of vehicle production, its successors, the LT and LS Series small-blocks continue as the engine of choice for racing and performance use.
The success of General Motors' Chevrolet Division traces its origin directly to Louis Chevrolet. He was born in La Chaux-de-Fonds, Switzerland, a village renowned for its manufacturing of precision timepieces. Not surprisingly, Louis' father was a watchmaker, which may explain why he and his younger brothers, Gaston and Arthur, inherited an enduring aptitude for anything mechanical.
Louis Chevrolet was born on Christmas Day, 1878. As a youngster Louis applied his early mechanical skills to building and racing bicycles. By 1900 he was a young man seeking greater opportunity for his career as a mechanic. To satisfy his career ambitions he immigrated to the New World, landing in Montreal, Quebec, Canada. Canada's welcome to immigrants made his move possible, but his real desire was to head south, to the United States.
Chevrolet's stay in Montreal was brief, but included work as a mechanical repairman. Louis 'younger brothers, Gaston and Arthur, soon joined him. Seeking greater opportunity, the brothers immigrated to New York City, in 1901.
Louis's bicycle racing career moved quickly to motorcycles, and then to motor cars, where his reputation as a fiercely competitive driver rapidly advanced. His reputation was also enhanced by his keen interest and skills in building and maintaining race cars.
By 1905 Louis had landed a job as a race driver for Fiat. That led him to begin working for William C. Durant. Durant would later become known as the founder of General Motors Corporation, the genesis of that industrial mega force. Although Durant's business career was much more successful, it is Louis Chevrolet's name and his legacy that endures.
Chevrolet began as a race driver and mechanic for Durant's Buick Motor Car Company. That led to the relocation of all three Chevrolet Brothers to Detroit. Louis began making his mark as a race driver almost immediately. In 1905 he scored several wins in major races, and in one event, defeated the famous Barney Oldfield!
Louis Chevrolet (circled, left) was among early Chevrolet Motor Car Company employees watching as the first Chevy paused for photos in 1913. Louis originally partnered with William C. Durant, founder of General Motors. Louis' fame as a race driver was used to gain early car buyer's attention for the new company. Personal differences with Durant caused Louis Chevrolet to sell his shares to Durant. His name, however, remained with the brand.
The Indianapolis 500 had become America's premier racing event from its beginning in 1911. Louis Chevrolet tried valiantly, but never did win an Indy 500. He did win ten other events on the brick-paved Indianapolis Motor Speedway, but a 500 always eluded him. Those ten wins at the Indianapolis Motor Speedway were among the 27 wins that Louis was credited with during his driving career.
In 1906 Louis tried his hand at setting a Land Speed Record, which was all the rage at the time. He made the trip south, to Florida, during the winter of 1906, driving under contract to the Darracq Motor Car Company. Chevrolet drove his Darracq on the long, hard packed stretch of beach between Daytona and Ormond Beach during the speed trials. That effort netted a World Land Speed Record of 119 mph, an astonishing speed for its day. Unfortunately, Louis' record stood only briefly before it was re-set, but the effort did earn him an official place in the record books.
Back in Detroit, Louis Chevrolet's mechanical genius continued to grow. Although he was not an engineer and had no formal engineering education, he engineered and built an inline 6 cylinder engine with an advanced overhead valve (OHV) cylinder head. These were designed and built in Louis' shop on Grand River Boulevard, in what became the "Midtown" area of Detroit.
In November, 1911 Louis Chevrolet expanded his business relationship with William C. Durant, entering into a partnership with Durant and two other investors. Durant's marketing acumen led him to name the new company The Chevrolet Motor Car Company. Durant's decision was based mainly on the national reputation of Louis' racing success. The partnership would be short lived. Many saw its demise to be a deliberate part of Durant's diabolical planning and corporate gamesmanship. After acquiring the Chevrolet name Durant found the means to conveniently eliminate Louis Chevrolet from the picture.
Both Durant and Chevrolet were headstrong, high-strung characters. That quickly led to a very predictable personality clash. The partnership became hopelessly conflicted and Louis sold his share of Chevrolet to William Durant.
Louis was known to settle business, personal and often racing disputes with violent fisticuffs! This brings to mind the hilarious post-race, infield fistfight between Chevy drivers Cale Yarborough, Bobby Allison and Donnie Allison following the 1979 Daytona 500. Although this was the first time live television captured the main-card action, it proved that Chevy racers have always been an excitable bunch!
The breakup with Durant may have resolved Louis' immediate problem, but its consequences created issues that remained with him for the rest of his business career and lifetime. Had Louis suppressed his French pride and volatile temper in dealing with Durant his life and career inside what became General Motors Corporation might have made him worth an almost unimaginable personal fortune.
Chevrolet Motor Car Company, carried Louis Chevrolet's name mainly due to his success as a race driver. Here Louis is at the wheel with his riding mechanic, preparing for a race. Riding mechanics were common in the early days, and both jobs were extremely hazardous. Note Louis' spiffy tie and famous mustache!
Later, and back in Detroit, Louis befriended another of the city's fresh, new automobile inventors. His new friend was an ambitious young man who had once been a plant manager for Thomas Edison's Detroit Edison Electric Power Company. Henry Ford, and his Ford Motor Company was rapidly growing in spite of the chaos that surrounded the wild and wooly Detroit auto industry.
Ford and Chevrolet hit it off (imagine that!) and Henry Ford convinced Louis to produce Chevrolet designed cylinder heads for Henry Ford's famous Model-T engines. Frontenac Motor Car Company's "Fronty-Ford" heads were its major product, but Frontenac also produced other racing parts and even built complete race cars.
The Chevrolet Brothers' Frontenac heads were highly advanced, and provided a significant increase in power for Henry's venerable Model-T engine. The Fronty heads delivered twice the valve area of a stock Model-T, with four valves per cylinder. These were cleverly driven by twin camshafts mounted atop the head. Enlarged intake and exhaust ports improved breathing, rpm capability and power output.
Fronty heads could be easily purchased from Henry Ford's growing dealer network, making them widely available across the country. Louis Chevrolet's new heads were also essentially a bolt-on item. Frontenac heads are very likely the beginning of the automotive aftermarket for speed parts, an industry that today exceeds one billion dollars in sales annually!
Henry Ford embraced auto racing as a viable means of promoting his products. He also knew that a Ford Model-T, even with Ford-Frontenac heads was still a Ford. Henry had made a sale with either the original vehicle or the engine itself, and the public looked upon a Fronty-Ford as a product of Ford Motor Company. Tens of thousands of others agreed, and the success of Fronty heads and Frontenac products boosted Ford Motor Company's image, and sales of Model–T's.
Frontenac heads were sold under the name "Frontenac Heads by The Chevrolet Bros.". They were also manufactured and shipped from a shop in Indianapolis, Indiana, and not Detroit. Louis Chevrolet and his brothers had built a facility in Indianapolis, mainly to be near "The Brickyard" and its' racing business.
Fronty heads reached their peak popularity during the 1920's era called "The Roaring Twenties". Automobile racing was sweeping the country and hundreds of stripped-down, hopped-up Model-T Fords would appear at any racing event across the nation. The fastest Fords usually sported Frontenac heads, and Chevrolet's reputation grew with every win. Almost a century later, original "Fronty-Ford" heads for a Model-T engine are now rare, highly prized and known to bring tens of thousands of dollars from collectors.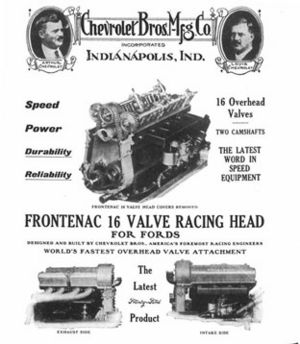 Louis Chevrolet's engineering genius is seen in this ad for the Frontenac heads for Ford Model-T. "Fronty-Ford" heads sported twin overhead camshafts and four valves per cylinder, for greatly increased hp output. A bolt-on item, Fronty-Ford heads launched today's billion-dollar, aftermarket racing parts industry.
"The Great War" ended in November 1918, and both the U.S. and the world began its healing process by trying to forget the violence and savagery that marked the years of WW-I. Louis and Gaston Chevrolet continued to enhance their reputations as race drivers and Arthur only occasionally.
Louis competed in four Indianapolis 500 races, with a best finish of seventh place. Gaston scored an Indianapolis 500 win in 1920. That same year 6 of the first 10 finishers were built by the Chevrolet brothers. 1920 would prove to be the high water mark of the Chevrolet Brothers Indy 500 careers.
Ironically, 1920 turned tragically sour when Gaston was killed in a race in Los Angeles, California, on the Beverly Hills wooden board track. The death of his brother was traumatic one for Louis and for a time he abandoned driving. After a period of dealing with his grief, Louis' love of racing competition and its lucrative money brought him back to driving.
Although his effort to win an Indy 500 went for naught, during his career Louis Chevrolet built two Indy 500 winners for other drivers. Like Louis, neither Gaston nor Arthur Chevrolet had any formal education in the engineering disciplines used to create such complex machines. Perhaps reflecting their watchmaker father's influence, their skills came through trial-and-error effort and common sense!
Not only was Louis Chevrolet proficient as a race driver on land, he proved to be surprisingly adept at manhandling high-powered race boats. Those skills were displayed to an audience of thousands when Louis scored an impressive win driving a powerboat in a 1925 regatta in Miami, Florida.
Carl Fisher, founder of the Fisher Body Company, had become heavily involved in developing a wild, barrier-island that separated Miami from the Atlantic Ocean. The island was lush and green, but isolated from the mainland by Biscayne Bay. Its only access was by boat until years later, when Fisher later built a wooden bridge to his island.
Fisher's regatta was staged to promote his new real estate development venture. Louis took home the trophy and the cash purse as well as the fee Fisher paid him up-front to compete in the event. "Fisher's Folly" eventually became a major triumph, and was later named Miami Beach. Today the wild island that Louis Chevrolet's lone boat racing victory helped promote is home to the billion-dollar enclave of fashionable trendiness globally known as South Beach.
In the very early days of the auto industry scores of newly formed companies were building motor cars and trucks. Often these companies shared technology and purchased parts from competitors. That meant there were scores of vehicle marques and odd-named cars roaming the streets. The horseless carriage had pushed the horse to the sidelines as the main source for transportation and power.
After Louis Chevrolet divested himself of his stock he began to diversify his industry involvement. As a result Louis became involved in the workings of many early auto companies, some well-known, others obscure. The Chevrolet Brothers' reputations as innovators opened many doors with these firms.
Among these various firms was Cornelian, which built cars for racing only. Louis was also a Vice President and executive officer with The American Motors Corporation. This AMC should not to be confused with the later AMC-Jeep which merged with Chrysler a few years ago. Louis' AMC was based in Newark, New Jersey. Louis' association began in 1916, and lasted until 1923, when it merged with Bessemer Truck Company. Bessemer-AMC later merged with Amalgamated Motors Company before it too disappeared.
The late Bill "Grumpy" Jenkins was the acknowledged standard bearer for Chevy drag racers. Jenkins' prolific career cast him as a mechanic and tuner, then driver. His close ties with the Chevy factory kept him on the cutting edge of racing development. Jenkins' revolutionary small-block 331 CID powered '71 Vega Econo-box compact was first derided, then copied for its world-beating success.
Louis Chevrolet died June 6, 1941, and is buried in Indianapolis, Indiana. His death came just six months before the United States was plunged into the fiery conflict of yet another World War. GM's Chevrolet Division would serve its country as a major contributor to "The Arsenal of Democracy", providing vehicles and munitions to help win the war. GM would emerge from the war to become the largest corporation in the world. Chevrolet Division would become GM's most successful vehicle marque and spawn the brand loyalty of millions of customers.
Arthur Chevrolet survived the longest of the three Chevrolet Brothers, before dying in 1946. He was reported to have taken his own life after declining health and depression took its toll on the last of the Chevrolet brothers.
Bill Jenkins had engineering training at Cornell University, but the call of drag racing led him to build winning Chevy drag racers for over 50 years. Jenkins' won World Championships in NHRA, AHRA and IHRA. He continued to design and build customer race engines in his Malvern, PA shop nearly until the day he died!
Throughout his life Louis Chevrolet was a "gearhead". He took basic mechanical skills and backyard engineering imagination to design and build amazingly complex machines that were commercially successful. In every respect he was an early-day hot rodder, always most comfortable when wrenching on his latest creation. Imagine the reaction had Louis lived to see the 1955 Chevrolet, its milestone small-block Chevy V-8 engine and the impact both made on the auto industry, motorsports, and on history itself.
The East Coast Drag Times Hall of Fame recognizes not only the wonderful skills of race winning drivers, but those of crew chiefs, mechanics, engine builders and those associated with all aspects of drag racing. It would not be a stretch to the imagination to name The Chevrolet Brothers, Louis, Gaston and Arthur as at least "virtual honorary members" of The Hall of Fame.