Mr. Gasket: From The Trunk Of A '57 Chevy To Wall Street
April 1, 2016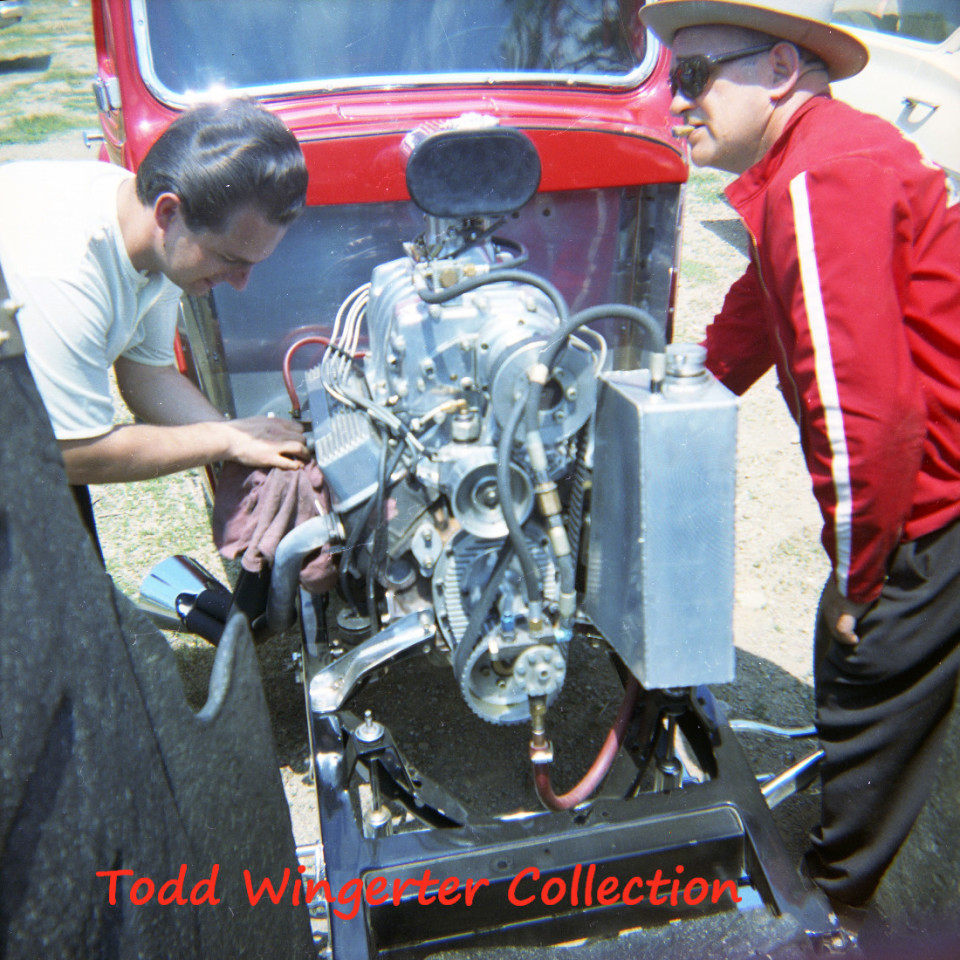 Joe Hrudka (left) turning the wrenches on the Hrudka Brothers' '33 Willys panel truck, C/Gas Supercharged, in 1966. The Willys used a blown, small-block Chevy with Hilborn injection and a manually-shifted, four-speed trans. (Todd Wingerter Photo)
Story by Jim Hill
These stories typically deal with drag racing's wildly varying personalities rather than with speed equipment businesses. For the Hrudka brothers, Joe and Tom, founders of Mr. Gasket Company, an exception is warranted. These guys were everyday drag racers and typical American teenagers from Cleveland, but their ingenuity and ability to foresee great potential in a racing business would one day propel them to astonishing career heights.
The Hrudka brothers saw a need for an item failing on their own cars, in this case, stock replacement exhaust gaskets. The stock gaskets were difficult to install and prone to failure. After identifying the problem they created a remedy for it. Fellow racers tried their gaskets, then asked to purchase them for their own cars. Encouraged, they set up in a home garage, crudely yet effectively manufacturing these and then other specialty gaskets. The modest enterprise grew rapidly before becoming an iconic brand in the performance and racing industry. Joe and Tom Hrudka went from weekend drag racers in Ohio to Manhattan's corporate boardrooms and then Wall Street.
American business has many tales of unlikely heroes who became obsessed with a hobby, created a business to support the obsession and through sheer willpower, guided it from a dream into reality. So it was with Joe and Tom Hrudka.
Joe and Tom Hrudka began serious drag racing with this '55 Chevy. The '55 won the 1962 NHRA Nationals D/Gas Class at Indy. Although the Moon fuel tank is located ahead of grille, full street equipment was rules required! Note long rear axle traction bars and whitewall slicks on Halibrand and American magnesium wheels.
The Hrudka brothers' early years were spent in the suburbs of Cleveland, Ohio. Raised comfortably but not wealthy, their 1950's circle of high school friends revolved around modifying and drag racing their cars. Rather than merely tinkering, they were actively and cleverly building and competing with them. Their fast-company moved them from early street racing to the drag strip on Ohio's many area tracks. Thompson, Dragway 42, Quaker City, National Trail Raceway and others provided racing opportunities and stiff competition. Northern Ohio's harsh winters and brief warm weather months encouraged not only weekend but weeknight racing. An ambitious racer could run 4-5 times per week during the brief but busy warm weather season.
All sorts of drag race vehicles were on hand, but the greatest number of cars were those in the Gas Coupe and Sedan classes. The Hrudka's began with a '55 Chevy, but soon built a '40 Willys coupe for C and D/Gas. They soon became part of an unofficial group of peers who became known in drag racing lore as "The Ohio Gassers". These included Eddie Schartman, Ron Hassel, Sam Gellner, Gene Schwartz, Hill Brothers, Virgil Cates, David Meal, Mickey Hart, Dave Koffel, Arlen Vanke, Rodriguez Brothers and a long list of Gasser notables, all from Ohio.
Fellow Clevelander Dave Meal built this '40 Willys C/Gasser, shown here at Cecil County, Maryland. Four-speed trans and injected small-block Chevy supplied 8,000 rpm power. Early Mr. Gasket logo appears on front fender of stock steel Willys front-end. Hrudka brothers ran tracks across the Midwest and other areas. (Photo by Charles Milikin, Jr.)
Dave Meal built this A/Gas, '48 Thames panel truck "Pie Wagon" in 1965. They loaned it to fellow Clevelander Ron Hassel, who ran it in Florida with his engine and trans. SB Chevy and four-speed produced high nine second ET's at 140 mph. Photo is from Palm Beach Intl. Raceway. Car was built very light, flimsy and flexy. (Photo by Jim Hill)
Joe Hrudka married early, and it happened that his father-in-law was a partner in a Cleveland industrial company, Manufacturers Gasket. Joe and his racing pals were having gasket problems. After explaining his problem, Joe and his father in-law worked out a solution. Joe and Tom's cars were powered by highly modified, small-block 283 Chevy V-8's. A standard modification called for grinding the cast iron cylinder head intake and exhaust passages (called "porting" by hot rodders) to increase airflow and power. Porting was tedious, messy hard work but well worth the power improvements needed. Parts store replacement gaskets refused to stay in place during assembly. Worse, they restricted the effect of porting the intake and exhaust passages of the Chevy heads.
Hrudka explained the problem to his father-in-law, and together they roughed-out exhaust gaskets that were thicker, cut larger and sealed leaks common with tubular steel exhaust headers. Rather than multiple pieces per exhaust side, they made the gasket one-piece, which allowed easier and faster installation. They next designed and made new, larger port intake gaskets that accommodated larger intake ports and their runners after porting. These size-adjusted gaskets were initially hand-cut from sheets of gasket material. Once the shapes were settled on they had simple steel-rule dies made, and used these dies to press-cut gaskets in a hand operated press. The homemade gaskets worked, and worked well. In between getting their cars ready to race, Joe and Tom spent a few hours each week cutting gaskets for themselves and their friends. Thus was born the foundation of the Mr. Gasket Company. Those original Part Number 150 Chevy exhaust and 150A intake gaskets for ported heads remain a backbone of the product line, even today.
Word spread, and soon they were taking a stack of gaskets to the drag strips they ran at, selling these out of the trunk of his '57 Chevy tow car! The cottage-industry gasket sales were brisk, allowing them to buy better, faster parts for their race car.
C/Gas '40 Willys was known to carry the front wheels through first two gears of its manual four-speed transmission. 11 second, 120 mph runs came from high-winding, small-CID, small-block Chevy with Hilborn fuel injection. Location is Dragway 42, West Salem, OH.
More notably, their gasket sales were growing with each drag strip outing. The popularity of these basic products forced the Hrudka's to keep a family member on hand at the track, to sell gaskets while they were making runs. More steel-rules dies were made and they were soon cutting racing gaskets for other popular engine makes. A brand name for the simple product line was needed, and in 1964, the name "Mr. Gasket Company" was adopted. Its logo featured a cartoonish little man shaped like, of course, a Chevy gasket. Soon many of Ohio's drag and even some circle track racers were buying racing intake and exhaust gaskets from the Hrudka Brothers and sporting Mr. Gasket decals.
Both Joe and Tom Hrudka continued to build and race Gassers while they were simultaneously growing the home-based company and its products. Initially targeting hard-core racers, the business and its machinery quickly outgrew its home garage, so they rented a small building for manufacturing, packaging and shipping. Weekend racing allowed them to discover and create products that made it easier to build and maintain race cars. Most were items created after they discovered that hand-building a single item was time consuming and frustrating. Many of Mr. Gasket's new products came from suggestions accepted from other racers.
One of the most famous Hrudka Bros., car was this '33 Willys panel truck. With a blown, small-CID Chevy, a blower, and four-speed, the bright red CC/Gasser was a crowd favorite. Photo is from the pits at the 1966 NHRA Nationals, Clermont, Indiana.
'33 Willys panel leaves the Dragway 42 starting line being corrected-left! Unpredictable handling prevented this car from reaching its full potential. The car still managed mid-10's at 135 mph as a CC/Gas Supercharged racer.
In one short year Mr. Gasket was on its way and by 1965 they reached gross sales of $500K. To expand brand and product awareness Mr. Gasket became an NHRA contingency sponsor, offering cash rewards for winning at NHRA races, using Mr. Gasket products and displaying the approved decals. They also began advertising in national magazines, creating a coast-to-coast market base for Mr. Gasket brand products. The company incorporated as Mr. Gasket Company in 1967, wisely adopting the recognized and marketable Mr. Gasket brand. The new firm sought established multi-step distribution, eagerly signing speed equipment warehouse distributors nationwide.
Once housed in the trunk of Joe Hrudka's '57 Bel-Air, the business had gross sales of over a $1 million dollars in '67. By 1969, Mr. Gasket had grown to $3 million in sales. This explosive growth paralleled the phenomenon of the "car culture" of the 60's and that of the performance industry. Hot rods and drag racing hit mainstream America like a hurricane as did sales of Mr. Gasket's products.
By the late 60's Performance Warehouse Distributors nationwide were carrying heavy inventories of Mr. Gasket products, and the company's products earned a solid status as a cornerstone line for any performance WD. Speed equipment retailers all had their requisite "Mr. Gasket Wall" stocked with hundreds of shrink-packed products hanging from pegboard hooks.
This represents only a small part of the Mr. Gasket product line. These dress-up items are for small-block Chevy. Mr. Gasket was once heavily stocked by Speed Equipment WD's and retailers as a leading product line for racing and performance distributors.
Seeking additional capital for expansion, Joe Hrudka assembled an Initial Public Offering of stock shares in late 1969. One-third of the company was sold as IPO shares, generating funds for further expansion. The IPO and its success also attracted the interest of W.R. Grace Company. Grace was a New York based, $200 million dollar, international conglomerate. Once a global shipping line and agricultural products company, Grace had become an aggressive purchaser of firms that looked financially attractive even though they were unrelated to its core business. After negotiations, Grace bought out the remaining Hrudka shares for a reported $17 million, and the Hrudka's remained with lucrative short-term consulting contracts.
Joe Hrudka soon became frustrated with big-time corporate America. In 1976 he left the company, remaining inactive until 1981, when his non-compete contract expired. Joe Hrudka had always loved Tri-Five Chevys, and during his "off years" built a show-quality collection of 55-56-57's. He also dabbled in various non-automotive related activities, but always maintained an interest in and an eye towards one day returning to the performance and racing aftermarket business.
Joe and Tom Hrudka were drag racers, and knew the popularity of race t-shirts as long-term, wearable advertising. This shirt survived from '69 Indy Nationals and is now a valuable "collectible" drag racing souvenir. (Photo and t-shirt by Jim Hill)
This '68 Camaro was built by Hrudka Bros. to be the ultimate late-model inspired AA/Gas Supercharged racer. Chopped top, clean aero and blown big-block Chevy with auto-trans was eight-second capable.
Early runs at Dragway 42, West Salem, OH showed potential for the Mr. Gasket Test Car. Unfortunately, A/GS popularity was waning by the late 60's as top teams switched to nitro Funny Cars to take advantage of big-money bookings.
Without guidance and market knowledge Mr. Gasket struggled. When W.R. Grace moved to divest, Hrudka along and a few former employee investors bought back Mr. Gasket for $4 million dollars. The purchase price was a fraction of what Hrudka accepted when he sold his remaining shares a few years prior!
Back in charge, Hrudka and a core group of personnel revived Mr. Gasket's brand as a "must have". Next, they acquired complimentary brands and moved to the suburb of Brooklyn, Ohio, bringing most divisions under a single roof.
Ken Kull brought back the Hill Bros. "Red Baron" '33 Willys A/GS for exhibition racing and display. Pete and Tom Hill were fellow Cleveland Gasser racers and Mr. Gasket a major sponsor. Authentic "Gasket Man" cartoon character graces grille area.
By 1987 sales had grown to nearly $120 million, but in spite of the company's rebirth, profits were unacceptably slim. Profitability and a sluggish economy forced the company to reorganize under federal Chapter 11 bankruptcy guidelines in 1991. In 1993, Echlin Corp., a Connecticut based, major automotive parts manufacturer and marketer, purchased the firm but its financial woes continued. Echlin's management continued to struggle with the company and its brands until they finally sold their Mr. Gasket interests at a healthy loss.
Since then other investor and equity groups have owned Mr. Gasket, but success continued to elude its owner-operators. Many industry observers have noted that a fundamental knowledge of the enthusiast-based market always seemed lacking in the financially oriented management teams that tried to steer a company for which they had no "feel" for its market. These groups repeatedly tried and failed to produce sought-after bottom-line success.
In September 2015 Holley Performance Inc., of Bowling Green, KY purchased Mr. Gasket. Along with it came MSD, Mallory, Accel, and Hurst, all considered key product lines with strong brand awareness among enthusiasts.
Holley's consolidation of these brands and their market-aware management holds strong promise that the once-powerful company, its products and iconic brands will return to a successful position in the performance automotive industry.
Tom Hrudka carried on the family tradition with this D/Gas Monza, at NHRA Nationals. NHRA killed Modified Eliminator and replaced it with Super/Comp, Super/Gas and Super Street, break-out racing categories. Many hard-core Gasser racers abandoned drag racing after their class and Eliminator was sacked by the new rules mandate. (Jim Hill photo)
Joe Hrudka and Tom Hrudka have been disassociated with the company for several years, and both are enjoying their retirement. Joe currently makes his home in Arizona while Tom resides in the Chicago area.
The Hrudka Brothers of Cleveland remain the uniquely American success story. Their rise to industry fame and fortune as well as Wall Street notoriety will remain as part of that lore. It's amazing to consider what true potential lay hidden within the spacious confines of a '57 Chevy trunk!