Roy Johnson: Carrying The Mopar Banner, Chasing The Pro-Stock Dream
March 22, 2017
Story by Jim Hill
As he nears his 75th birthday, Roy Johnson looks in both the rear-view mirror and to the future. He sees both with a simple, yet crystal-clear perspective. Not many men who have reached three-quarters of a century have the unique life story, or lifestyle of the Greenville, Tennessee resident.
For much of his lifespan, Roy Johnson's existence has been spent working harder than most to squeeze one last horsepower from a variety of finely tuned, cutting-edge racing engines. That he has done so with such success makes his story that more interesting.
For Roy Johnson, the sweet smell of success came many years ago, back when he was a young man chasing the dream of one day being able to competitively race in drag racing's elite, doorslammer category, Pro-Stock. Although he never did reach that pinnacle as a driver, Roy did experience the ultimate as engine builder and tuner of his son Allen's Dodge Dart when it won the 2012 NHRA Pro-Stock World Championship title. In post-race interviews, Allen was emotionally choked when he acknowledged the overwhelming credit due his dad Roy for providing the horsepower and guidance to have taken the title.
Allen also knew Roy missed being the driver, so he stepped up and quietly bought Roy a Dodge Challenger Drag Pak, had it set up for drag racing and surprised Roy with the keys and a "OK, now get in and drove it!" suggestion. Although the last race car Roy had driven was three decades earlier, after just a few runs Roy was back on top of his game, staging properly, hitting the 'Tree and making shift points in the mid-ten second, 125 mph Challenger.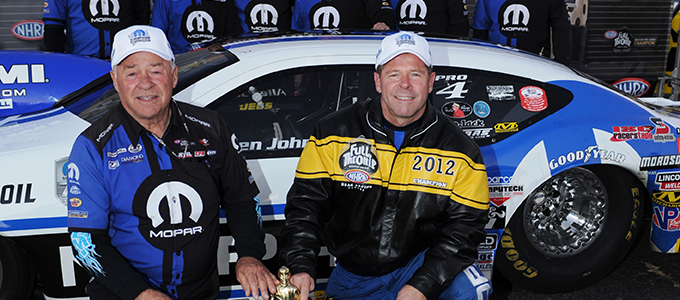 Former NHRA Pro Stock World Champion Allen Johnson (right) learned his craft from dad Roy Johnson, once a highly competitive and successful driver-tuner himself. 
Roy's drag racing career began with a '62 Plymouth, 413 cubic inch Super Stocker, running regularly at his home track, nearby Bristol International Dragway. Built by legendary track owner-builder-promoter Larry Carrier and partner Carl Moore, Bristol hosted the first-ever NHRA Springnationals, in June 1965. By the late 60's Roy was a regular at Bristol's "Thunder Valley" layout, and a frequent winner under first AHRA and later, IHRA racing sanctions.
After hosting three NHRA Spring events, Carrier dropped NHRA for Jim Tice's AHRA, then he dropped AHRA, forming IHRA. That was the beginning of "sanctioning body alphabet soup", with a new acronym seemingly appearing every few months.
Roy Johnson was unfazed. He just wanted to race, and did so for several years. Young son Allen and Roy's wife Revonda made up the crew as Roy chased events across the Southeast. Allen worked side-by-side with his dad, learning how to make a Chrysler Max Wedge engine go fast and eventually driving himself. After years of Sportsman racing Roy stepped up and in 2007 opted to pursue his dream of running Pro-Stock.
Roy and wife Revonda Johnson have been a drag racing couple for decades, first with Roy's own racing efforts and later with son Allen Johnson's Pro Stock team.
It was the road less traveled for an under-funded, inexperienced team trying to just qualify and get into the show with the big boys. Frustrations were many, but Roy's strong guidance, Revonda's behind the scenes support and Allen's youthful enthusiasm prevailed, eventually bringing the backyard team to the edge of success. Suddenly, "Johnson & Johnson" became associated with winning Pro-Stock rounds rather than baby lotion at Walgreen's.
The culmination of Roy Johnson's amazing, "30-year overnight success" story peaked when the team took the 2012 NHRA Pro-Stock title over a field of razor-sharp competitors. It was those same competitors who quickly pointed out that the J&J racing operation had endured and persevered many years before finally making it to the top. They also voiced admiration for their grit in overcoming countless obstacles along the way.
Following Fiat-Chrysler's abandonment of its Pro Stock racing program, and corporate sponsorship of Johnson & Johnson Racing, J&J was forced to scramble to secure the financial resources needed to campaign in the highly competitive and expensive category. Marathon Petroleum, a large eastern and midwestern gasoline retailer, stepped up with support, allowing J&J to campaign in 2016 and 2017.
Frustrations surfaced yet again when J&J's long term Chrysler support was lifted at the end of the 2015 season. The search for a new major sponsor began immediately. As Roy and the crew back in Greenville toiled to get ready for what promised to be Pro-Stock's most challenging year, Allen worked to secure new backing. That arrived early in 2016, when Marathon Petroleum Corporation signed a multi-year pact with the J&J team. A major gasoline retailer, Marathon's support recalled earlier gasoline brand sponsorship from Amoco.
2016 has proven to be every bit as tough as it was anticipated. New NHRA rules eliminated the huge Holley Model 4500 Dominator carburetors used by Pro-Stock racers. Aftermarket electronic fuel injection (EFI) was mandated, and teams scrambled to obtain hardware and software to work with the new induction package. Without a locked-in sponsor, J&J was unable to follow the other teams for post-season, late 2015 testing. Once Marathon was on board they pulled out all the stops and surged forward in preparation of their first season with EFI.
Asked about "an old dog learning new tricks", Roy responded: "I don't know if this old dog has learned any new tricks yet. We're running the same engine as we ran last year".
The "same engine is of course, the heads and short-block assemblies. Up top, everything is new, including the lower hood scoops and out back, new wheelie bar regulations. NHRA's stated goal was to make the class more exciting and fan-acceptable. The ultra-scienced Pro-Stock cars had lost much of its fan appeal from the early 70's when the category was one of the most popular in drag racing. The 2017 season is still young, and the carry-over impact of the rules changes to the new season has yet to be determined. After the first three NHRA major events the Marathon Petroleum-J&J Motorsports Dodge Dart was 13th in points, but the team expects to hit its stride before mid-season.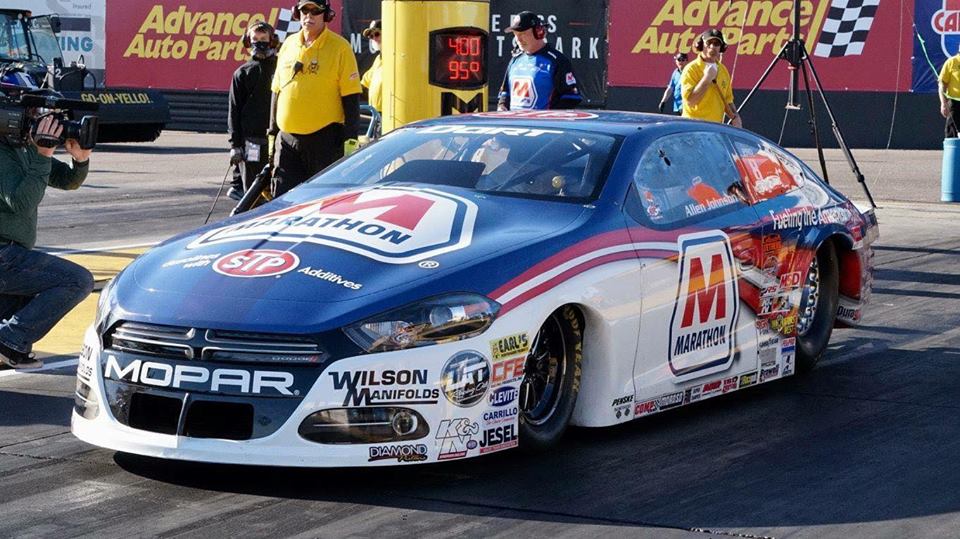 EFI and other significant rules changes were enacted in 2016. Lack of funding forced J&J Racing to cut back on testing and development while they searched for a new sponsor. Marathon solved that issue, and the Greenville, TN based Johnson boys are back trying to regain the edge for the only Chrysler Pro Stock team in NHRA.
Roy's ability to adapt to a laptop driven, computer EFI tune-up has also been questioned. He acknowledges his lack of computer knowledge, but is quick to note that he is equally eager to sink his teeth into and master the new technology.
"If we can just start the car every time and then get it down the track we might be the lucky ones", he noted in an interview with Competition Plus' Bobby Bennett.
Based on the hard-core work ethic of Roy Johnson, Allen Johnson and the equally dedicated crew back in Greenville, TN, mastery of the EFI challenge will happen shortly, putting J&J Racing back in the winner's circle.
The East Coast Drag Times Hall of Fame is proud to welcome Pro-Stock engine master and lifetime racer Roy Johnson as a member of the Class of 2016.