The First Winter Nationals And How It Came To Begin The Drag Racing Season
February 8, 2016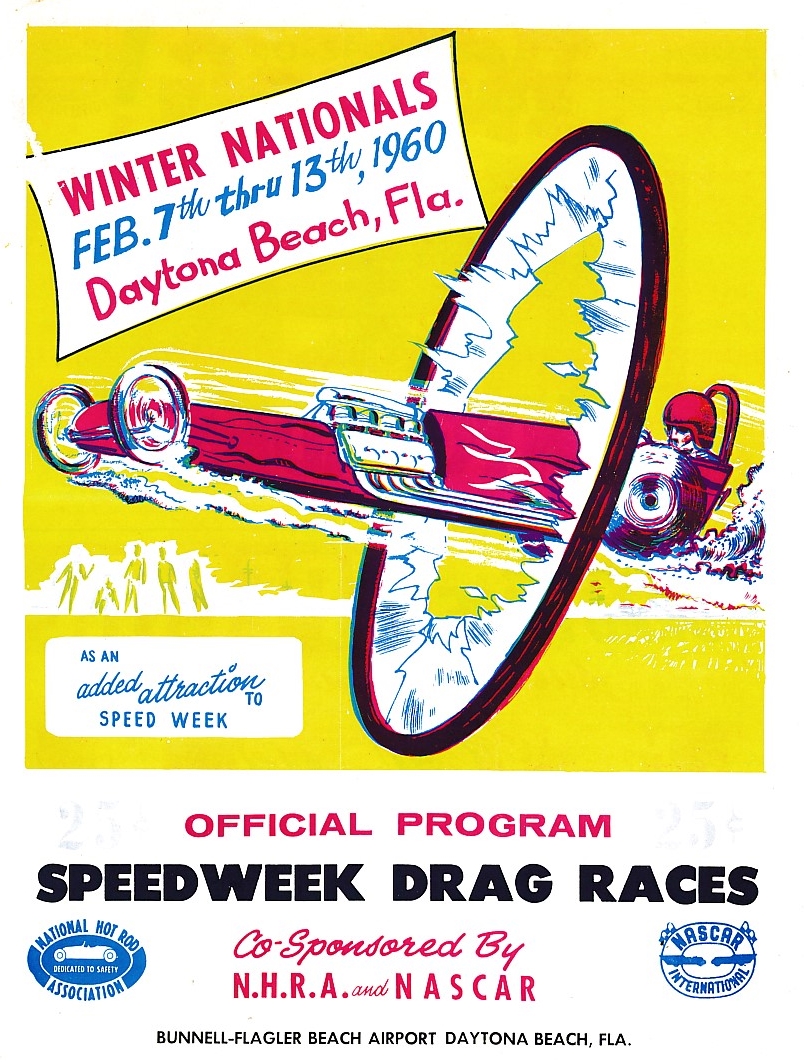 The official 1960 NHRA-NASCAR Winter Nationals program cover carried both association logos. The reference to "…an added attraction" suggested seven-night drag races were something to do after a day of Daytona 500 Speed Week racing at Daytona International Speedway.
Story by Jim Hill
Once again it's Winternationals Week, the time of year when drag racers and fans prepare for another racing season beginning with the NHRA Winternationals. Next time you're sitting around with a few racing pals, you can take the information below and turn it into a free round of whatever liquid refreshment you prefer.
OK, the Questions that should stump your pals and wet your whistle are: "When and where was the first NHRA Winternationals held?" And: "Who presented this event?"
At face-value the answers seem simple, February, 1961, at the Los Angeles County Fairgrounds, Pomona, California, and Wally Parks and NHRA. No, guess again.
The correct answer is: The first Winternationals was held February 7 through 13, 1960, at the Flagler-Bunnell Airport, Bunnell, Florida! Two sanctioning bodies actually teamed up to present the race, Wally Parks and NHRA, along with Bill France, Sr., and NASCAR.
It's hard to believe that rivals Wally Parks and Bill France would collaborate to co-produce a drag racing event, but the first Winter Nationals was a co-production of NHRA and NASCAR. The logistics and personalities of this unlikely pairing of two of American motor racing's most dynamic personalities is an amazing tale. Both Parks and France created and directed their organizations with iron-clad authority and neither fully trusted the other in that unique 1960 partnership.
Wally Parks and Bill France appeared opposite each other in the official program for first NHRA-NASCAR Winter Nationals, February, 1960. The two motorsports moguls would go on to create separate racing empires that remain as the largest and most powerful organizations ever.
During the seven-night event, both Parks and France made frequent trips to the spectator's gate to check on incoming gate receipts. So much for mutual respect and trust among fellow travelers!
Over 200 race cars found their way to the former WW-II airfield. The event was a financial success, but largely due to the number of unpaid volunteers who ran it.
Afterwards, both Parks and France thought they could do it better and more profitably. Wally Parks hosted his 1961 race in Pomona. Bill France ran several more drag races concurrent with Daytona 500 Speed Week.
Curiously, NHRA's current owner/managers prefer to officially disassociate the 1960 Winter Nationals with NHRA. Instead, they claim 1961 as the inaugural year for the event. The late Wally Parks, acknowledged not only the event's birthright, but how it all happened. NHRA's National Dragster also published an issue carrying the race results and proclaiming the 1960 event the Winter Nationals.
Also notably, six members of the East Coast Drag Times Hall of Fame either raced at the event or were instrumental in producing it.
I wrote the story below in 2001, for NHRA's 40th Annual Winternationals souvenir issue of National Dragster. It covered the details of how Wally Parks, and Ernie Schorb, Bill France and Ed Otto presented that first-ever 1960 Winter Nationals, in Bunnell, Florida.
I hope you enjoy this. If it earns you a free drink, please remember to say good things about me.
                      These East Coast Drag Times Hall of Fame Members Participated                              
in The First NHRA/NASCAR Winter Nationals, 1960:
Ed Eaton; Shirl Greer; Joe Jacono; Ernie Schorb; George Weiler; Dan Weis
Story by Jim Hill
Originally Appearing In National Dragster, February 2001
Ask a knowledgeable fan when and where the Winternationals was first contested and the answer you'd likely receive would be:  "Pomona, California, Los Angeles County Fairgrounds, 1961".
Good guess, but wrong!  Actually, the second largest, second-oldest major event of NHRA's schedule, the Winternationals, took place on the opposite coast, near Daytona Beach, Florida, in 1960!  Even more surprising, the first "Winter Nationals", was a cooperative venture between Wally Parks' NHRA and Bill France's NASCAR!
Robert E. Petersen had only four titles in '60. Hot Rod and Motor Trend were his flagships. Petersen Publishing went on to become world's largest specialty media company. This ad appeared on cover 4 of '60 Winter Nationals program. Hot Rod's Ray Brock covered the race.
The inaugural Winternationals was actually held on seven nights, February 7-13, 1960, at the Flagler-Bunnell Airport, about 20 minutes north of the then-new Daytona International Speedway.  The seven-night schedule ran in conjunction with racing at the tri-oval track. It also addressed a growing problem that threatened to cancel the entire Speedweek schedule.
During previous Speedweek races, nighttime street racing on the old beach course and city streets had grown to become a major problem with police, civic officials and citizens.  Wild, drunken young people were jeopardizing the fledgling Daytona 500 and the new speedway itself!  An organized,supervised drag racing event was deemed the answer. Both NHRA and NASCAR began developing a remedy for the problem.
Sanctioned drag racing events had already made substantial progress in Florida.  This was due largely to the efforts of a Miami-based organization patterned after the Southern California Timing Association.  The Miami group even called itself the "South Florida Timing Association", or "SFTA".
Lewis Carden, of Birmingham, AL, took his B/Dragster to overall Top Eliminator at first NHRA-NASCAR Winter Nationals, 1960. Carden won most Top Elims during all seven nights of the race. SFTA's bus carried timing equipment and support gear 275 miles north, from Miami, to Bunnell.
Out in California, organized drag racing grew from the efforts of Wally Parks, founder of the National Hot Rod Association.  In Florida, Wally's alter-ego was a young man named George E. Schorb, "Ernie", as racers knew him.  Parks had previously enlisted Ernie's assistance in organizing and sanctioning races and tracks in Florida.
Schorb and SFTA had been successful in taming street racing in South Florida. Now they would get the chance to do so in Daytona Beach. NHRA, SFTA and Bill France's NASCAR would join together to tame the out-of-control street racers in Daytona.
Ernie Schorb began his involvement with drag racing in 1949.  Like many, Ernie was attracted to local Miami hot rod clubs.  In 1951 he joined the Ramblers Road Club, of Miami, one of the founding clubs of the SFTA.  Schorb soon found greater enjoyment in organizing, administrating and promoting racing.  His personality and ambition quickly placed him in contact with local political, military and police officials eager to rid their streets of illegal "stop light drags".
One of those, a local businessman and sports car racer, Jack Horsley, owned an independent insurance agency and other businesses.  Horsley introduced Ernie to U.S. Congressman, Dante Fascell, from the Miami-Dade County district and a rising power in Washington.
Schorb approached Fascell with the idea of obtaining the use of then-inactive Homestead Air Force Base for supervised drag racing. Fascell agreed to help.  Congressman Fascell convinced the Air Force to open its base for weekend drag racing.  The racing had to be insured for liabilities against the USAF, and Ernie sought the guidance and sanction of Wally Parks' NHRA.
Hall of Fame member Joe Jacono (2003) drove a Buick powered A/Modified Roadster to runner-up for Top Elim to Lewis Carden. Jacono, from Chester, PA, later removed the A/MR body from the dragster  in the photo and finished the year winning several Top Eliminators with this AA/Dragster.
Racing at Homestead AFB was short-lived. Due mainly to hostile activities by the new Marxist revolution in Cuba, the base was soon re-activated.  Schorb secured the permission, support and participation of the Dade County Road Patrol, now known as Miami-Dade County Sheriff's Department.  A stretch of seldom-used public roadway was made available for twice-monthly drag racing. This lasted until another more attractive land tract, Amelia Earhart Airfield, in Hialeah, became available.
The U.S. Navy controlled Amelia Earhart Field, and Seaboard Railroad (now part of CSX), held an option on its development.  With Fascell's help, Schorb and the SFTA member clubs received a lease for twice monthly drag racing.
Schorb also enlisted the help of the Dade County Road Patrol, the Florida Sheriff's Boys Ranch, and The Miami Herald, through its most widely read columnist, Jack Bell.  Bell was head of the Herald's "Lend-A-Hand" charity, and a recipient of donations from SFTA's twice-monthly drags.  Bell's columns frequently told of the efforts of SFTA in getting drag racing off the streets.
Amelia Earhart Field hosted the first Florida State Championships in 1954, an event that lasted into the late 1970's.
Schorb had first met Wally Parks while Wally was running the Hot Rod Magazine "Suddenly" Plymouth in speed trials on the beach in Daytona.  In 1958 Schorb accepted a job as NHRA Business Manager, in California.
In 1959 Parks chose Ernie as the first NHRA Southeast Division Director.  His "DD" colleagues included Ed Eaton, Eastern Director, Dale Ham, Southwest, Terrill Poage, Northwest, Bob Daniels, Midwest, and Bernie Partridge, Western Division.
This abominable contraption was built and courageously driven by Conrad Kalitta, from New Baltimore, MI.  Kalitta would go on to be a World Champion and legend in Top Fuel and Funny Car as "The Bounty Hunter". Conrad Kalitta was an entry in the First Winter Nationals, 1960.
NASCAR opened the new Daytona International Speedway with the Daytona 500 in February 1959. That same year hundreds of rowdy, drunken fans began using the old beach course and local streets for street racing. Daytona and Volusia County law enforcement officials and citizens demanded Bill France prevent a repeat of the illegal racing before the second Daytona 500, in February, 1960. The counter-plan was for a seven night drag racing series during Speedweek.  Mike Blume, Schorb's SFTA concessions manager, had previously worked with NASCAR's Ed Otto. Together they agreed to assemble the interested parties and discuss the solution.
This 1960 Winter Nationals program page carried ads for racers and shops. Jim Rathmann's Miami speed shop did engine conversions (He was famous for Cadillac V-8's into Fords, the "Ford-illac"!) and sold speed parts. Rathmann was maybe better known for winning the Indy 500, May 30, 1960!
Wally Parks and Bill France agreed. Schorb coined the event's name "Winter Nationals", at the same time forever attaching his own name to the title. NHRA later made it one-word, and registered it as a Federal Trademark and Wally Parks acknowledged Ernie's role in the naming process.
Getting the event off the ground presented its own set of unique "opportunities". Because NASCAR knew little about drag racing, NHRA carried the majority of the responsibility for organizing, promoting and actually hosting the first-ever Winter Nationals.  A workforce of volunteers was recruited from SFTA to tackle the details.
Jack Harris, a Dade County Road Patrol Sergeant and long time SFTA supporter, volunteered for security, and brought along a couple of his officer pals.  Jim Whitaker, SFTA member and Florida Power & Light employee, and some of his FPL friends bored holes and set poles to carry electric lines and lighting for the pits and spectator areas.  Portable generators would provide electrical current.  Lights for the drag strip lanes came from a pair of WW-II surplus anti-aircraft searchlights aimed down each lane.
2006 East Coast Drag Times Hall of Fame member Ernie Schorb and NASCAR Vice President Ed Otto teamed up to perform most of the work that led to the running of the first Winter Nationals. Ad at bottom was for Miami drag events promoted by Schorb and SFTA.
SFTA's bus hauled the Chrondek Dual-Lane timing system, PA amplifier, and communications equipment.  SFTA's timing equipment was assembled and calibrated by Chrondek specialist Jerry Tyson, a member of the Cabriolets Road Club, an SFTA member.  Other SFTA clubs volunteered to be a part of the largest drag racing event ever in the southeast.
Wally Parks traveled to Daytona Beach, also dispatching NHRA Northeast Division Director, Ed Eaton. Eaton's event skills proved to be a valuable contribution, especially in organizing and operating the staging area.
Racers from 20 states competed, coming from as far away as Illinois, Michigan and Maine.  Race car counts hovered around 200 cars per night, and spectators were estimated at more than 15,000.  Meager by today's standards, in 1960 these numbers were impressive for a first-time event.
That most unpredictable element, the weather, became a factor.  Daytona Beach's normally mild February weather turned raw when a large Canadian air mass moved South bringing rain,wind and cold.  Temperatures on several nights dipped to freezing, making racing, officiating or spectating a challenge.
In the end, controversy shadowed but failed to impact the event's final results.  Lewis Carden, a strong runner from Birmingham, Alabama, took overall honors with his injected small-block Chevy powered, B/Dragster.  Carden took overall honors by winning the most Top Eliminators during the seven nights.
Don Garlits drove first Winter Nationals, in 1960, setting Top Speed at 165 mph in brother Ed Garlits' car. Tampa's Art Malone took over when Garlits was again injured. Malone and Garlits towed the "Don's Speed Shop Special" from Tampa to California with this crusty, rusty '53 Cadillac.
Don Garlits had only recently recovered from burns suffered in a dragster engine explosion and fire.  He returned at the Winter Nationals, driving his brother Ed's gas burning, (NHRA's fuel ban was in effect) blown Chrysler dragster to Top Speed honors at 165+ mph.  Unlike Carden, Garlits didn't run all seven nights of competition.  When the results were announced, Garlits hotly protested, countering that his many 160+ runs and 165 mph Top Speed performance should have earned him the event's overall honors. Carden, having run all seven nights with more TE wins, was still declared the official overall winner. Carden did record a best of 9.55 at 141.95 mph, very good numbers for a B/Dragster in 1960. Carden's final win came over Joe Jacono, (Jacono is an ECDTHOF member) in a Buick powered A/Modified Roadster.
Middle Eliminator honors went to Arnie Swenson, from Milltown, New Jersey. Swenson would later be known for the wild-handling Swenson & Lanni AA/Altered.  He won the '60 Winter Nationals title in his Buick powered '30 Ford pickup.
Stock Eliminator was won by an Illinois farmer destined for future drag racing legend. Arnie Beswick, of Morrison, Illinois, drove his 1960, 389", four-speed, Pontiac Catalina to the Stock win over Harold Ramsey's '57 Chevy. Ramsey was the winner of the '59 NHRA Nationals, in Detroit.
Morrison, Illinois' Arnold Beswick drove his nearly-new '60 Pontiac Catalina to Stock Eliminator honors. Arnie "The Farmer" Beswick's stellar career and national fame would come later. "Farmer" ran this '58 Pontiac in C/Gas class in 1959, before heading to Daytona Beach for '60 event.
Other notable racers competing at the first Winter Nationals included Connie Kalitta, Shirl Greer, George Weiler, Ollie Olsen, Dick Griffin, Charlie Seabrook, Red Farmer, Jack Kulp, Dan Weis, Don Gist and Sam Gellner.
Both co-sponsors later abandoned the idea of repeating the Winter Nationals.  NASCAR pursued eastern drag racing until the mid-1970 under Ed Otto's guidance. After the 1960 winter effort France wisely focused his attention on circle track racing and the Daytona 500.  Wally Parks and NHRA produced the wildly successful "Winternationals" at the Los Angeles County Fairgrounds. Their first Pomona event came in early 1961.  In 1963 nitro fuel dragsters returned, but the gas-only 1961 and 1962 Winternationals established lofty standards as NHRA's second-largest event.
NHRA's Feb. 26, 1960 issue of National Dragster headlined the "First Winter Nationals" and its winners. 1961 Winternationals is claimed as the first year by current NHRA management, but National Dragster and history disagrees.
In its long and storied run, the NHRA/NASCAR "Winter Nationals" and the NHRA "Winternationals" has seen careers begun, records broken, victories celebrated, tragedies shared and tears shed.  It was in 1960, on an airport drag strip a few miles north of Daytona Beach, during seven cold, sometimes rainy and windy nights that the first NHRA "Winter Nationals" became a reality.