2016 ECDT Hall of Fame Inductees Announced for Oct. 14-16 Event
February 16, 2016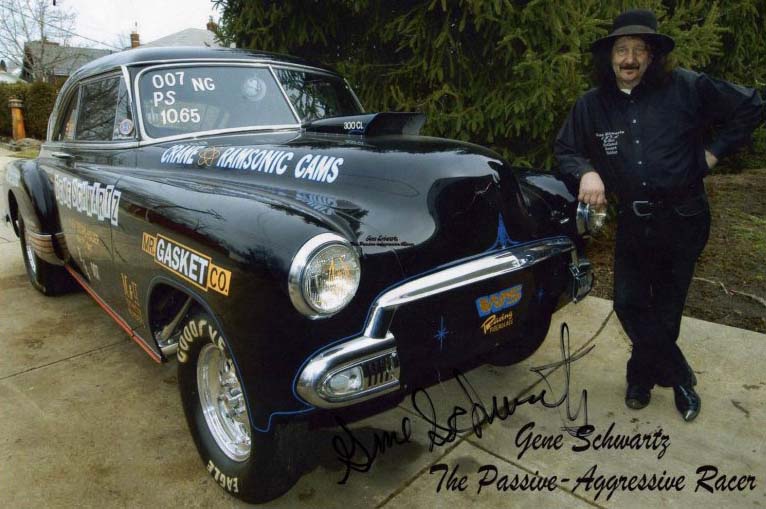 Gene Schwartz's original '52 Chevy Deluxe was destroyed in a racing crash. He built this car to be close to the original, including its manually shifted, four-speed trans. Today Schwartz's car runs in Nostalgia Gas events, running 10-second ET's. Gene will be inducted into the ECDT Hall of Fame, Henderson, NC, Oct. 16. 2016
Gene Schwartz's career as a world-class bass guitar player spans 40+ years. He and his brother Glenn Schwartz toured many years backing renowned bluesman Robert Lockwood. Growing up in Cleveland, Ohio, Gene was one of the "Ohio Gassers". In the early 60's Schwartz built a '52 Chevy E/Gasser and set several NHRA National Records as well as taking a class win at The Nationals. Black outfit and hat are Schwartz's stage trademarks!
Story by Jim Hill
The 15th Anniversary East Coast Drag Times Hall of Fame proudly announces its roster of inductees for the October 16, 2016 ceremonies in Henderson, NC. Twelve new Hall of Fame inductees will be honored, among them drag racing drivers, track owners, promoters, industry figures and media members.
"We are extremely proud of our Class of 2016. They represent a terrific cross section of the drag racing sport, from honored regional figures to national name racers, track managers and promoters, and industry executives who have made significant contributions to drag racing during their careers. Since this is our 15th year, I am especially proud of our Hall of Fame Nominating Committee for their diligence and insight in choosing these most-deserving individuals", reflected Nancy Wilson, Hall of Fame Executive Director.
Roy Johnson (second from left) and son Allen Johnson share the moment after his 2012 Pro Stock World Championship. Roy's racing career began with a '62 Plymouth Super Stocker. Roy's Greenville, TN shop is the main force behind the engines run by Allen's 500 CID Dodge Hemi Pro-Stockers.
Although Roy Johnson's last race was 30 years ago, the urge remained, so Pro Stock driver Allen Johnson presented this 2015 Dodge Challenger Drag Pack race car to his dad. The Challenger was built by B&B Race Cars. Roy (2nd from right, back row) didn't miss a beat, turning mid-10's his first time out!
"Although it's several months away, we are already anxious to greet and honor these folks during our Hall of Fame Weekend, October 14-15-16. The 2016 Hall of Fame inductees will first be there for our annual Friday barbeque at Kerr Lake, and then on Saturday, for our Show & Shine. Several of our 2016 inductees have said they will be bringing race cars with them. Having the cars and their drivers creates an amazing interaction with the spectators at our show. Best of all, it gives them the opportunity to learn about the cars and how racing was conducted during its golden age", added Ms. Wilson.
At last year's 2015 Hall of Fame Weekend more than 1,500 cars were on hand for the car show. Checking them out were over 30,000 spectators who strolled along Henderson's historic main street, viewing the cars and talking with their owners. For 2016, the Vance County Tourism Development Authority expects that number to grow again as word of this uniquely entertaining event continues to spread among car enthusiasts throughout the East and Midwest!
The late Joe Tucci waits for push start from his '54 Mercury push car. Lynwood Welding (Pat Bilbow) chassis, blown 392 Chrysler Hemi, Hilborn "Two-Hole) injection and M&H Racemaster slicks pushed Tucci to eight second runs at 170+ mph, on gasoline! Lyndwood built many dragsters in early and mid 60's as well as roadster/altered chassis.
"We are extremely grateful to the citizens of Henderson and to Vance County for their total cooperation in this annual event. Without their support and assistance we couldn't present an event of this size and importance", Nancy Wilson observed.
Although the hot rods, street rods, musclecars, restored antiques and race cars are the stars, the annual display of the Corbitt Preservation Society is also eagerly anticipated. Corbitt heavy trucks were built in Henderson, from 1913 to 1955. Each year the Corbitt Society brings out its restored survivors and works-in-progress to create a display of trucks several blocks long.
Niagara Falls, New York's Jim Zakia gained early recognition while running this '55 Chevy C/Gasser in the early 1960's. Zakia's often snow-bound, upstate NY location means long winters in the garage, working to go faster! Jim will be on hand to receive his induction plaque into the ECDT Hall of Fame, Henderson, NC, Oct. 16, 2016
Jim Zakia built and raced this big-block Chevy powered A/Gas Opel GT until Modified Eliminator was eliminated by NHRA. The GT was an eight second performer, shown here at Dragway Park, near Cayuga, Ontario, Canada.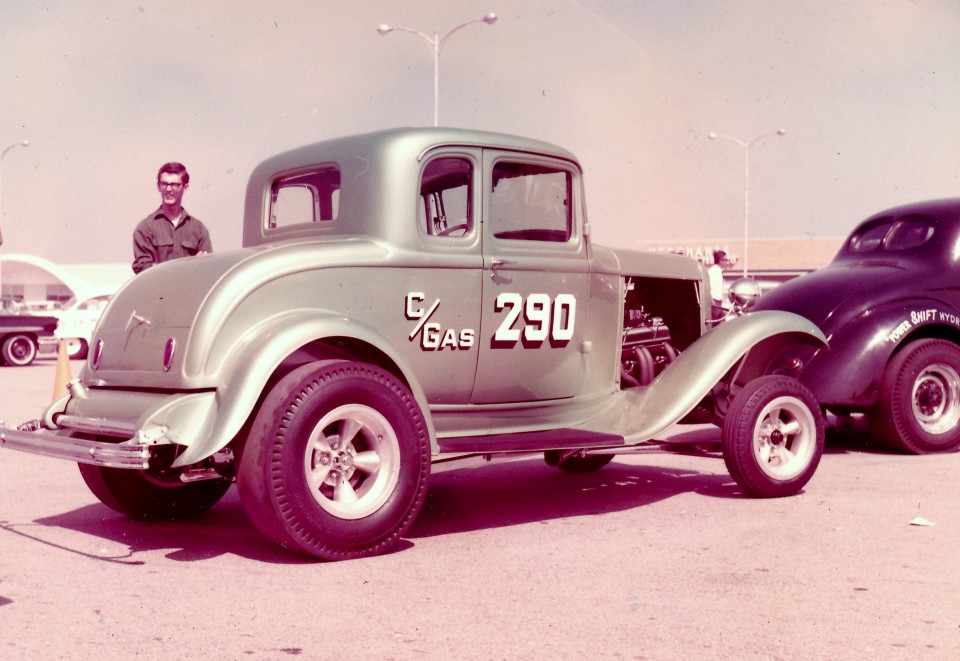 Here Harry Luzader (at left, behind car) waits in the tech line at the 1964 NHRA Nationals. A small-block Chevy with Hilborn injection and a four speed powered the Little Deuce Coupe. NHRA Nationals Tech Inspection was once conducted in a nearby shopping center, just down the street from the Indy 500 track.
Harry Luzader's classic '32 Ford five-window coupe ran at major events in the 60's ande 70's. Here he takes on the Blackwood-Eckard-Kirk Hemi powered B/A at the '68 NHRA Springnationals. Harry built the car, the engines and four-speed transmissions, tuned and drove. Here the '32 is running as a D/Altered, in Comp Eliminator.
The 2016 East Coast Drag Times Hall of Fame Weekend happens October 14, 15 and 16, 2016, in Henderson, North Carolina.
Henderson, NC is conveniently and strategically located off three I-85 exits, 40 minutes north of Raleigh, NC. It's also less than an hour south of the key I-85/I-95 interchange. There are numerous motels, restaurants and shops available.
If you've not yet enjoyed this great weekend plan now to attend! For more information contact: Vance County Tourism Development Authority; Henderson, NC; (252) 438-2222; (866) 438-4565; www.eastcoastdragtimeshalloffame.com", or send your e-mail to: vctourism@gloryroad.net.
2016 East Coast Drag Times Hall of Fame Inductees, October 16, 2016
Al Carpenter
Tom Farrell
Paul Gold
Hank Hankins (posthumous)
Rick Holiday
Levi Holmes
Roy Johnson
Harry Luzader
Gene Schwartz
Steve Taylor (posthumous) and Brenda Taylor
Joe Tucci (posthumous)
Drake Viscome
Jim Zakia