The 1955-57 Chevy: First Choice For Drag Racer, Cruiser or Show Stopper
February 24, 2016
Charles Carpenter was one of the original racers to recognize the interest in nostalgia drag racing. His '55 Chevy began racing in mildly modified form, in IHRA Sportsman classes. Next came a series of modifications based on the original '55 chassis. That led to a full tube chassis with huge-inch big-block power and then into what is now called "Pro/Mod". Carpenter's latest '55 shoebox is a six-second, 220 mph terror! 
Editor's Note: This story has been divided into two parts, due to its length and to allow more photos. Part II plus more photos will be published next week.
Story by Jim Hill
They happened smack-dab in the middle of the nostalgia-laden 1950's. Ike was in the White House and gasoline sold for about $.30 cents per gallon. To millions of young Americans, 1955-56-57 Chevy's were indeed "dream cars".  Not what the car factories called "concept cars", but true dream cars because millions of young Americans dreamed of one day owning one.  Like when private eye Phillip Marlowe was explaining the overwhelming lure of The Maltese Falcon, "Why, that's the stuff that dreams are made of."
 "Tri-Five" dream cars were arguably the high-water mark of the American auto industry.  Be assured that when racers, car enthusiasts or baby-boomers wax nostalgic about the 50's, they aren't pining for a '55 Ford, a Dodge Lancer or a Rambler.   They're yearning for the fins, fun and tire scorching authority found only in a hopped-up, Chevy V-8 powered 55-57 Chevy.
The 1955 Chevrolet was such a radical departure from its previous Chevys that even the Indy 500 took notice, naming "The Hot One" the Official Pace Car for the May 30, 1955 race. The '55 introduced the amazing small-block Chevy 265 CID V-8, the engine credited with creating the performance and racing parts aftermarket.
Tri-Five Chevy's were natural-born killer drag racing machines.  Lightweight, classically designed, sturdy, simple and infinitely modified, Tri-Five's and the Chevy V-8 created the billion-dollar industry of aftermarket speed equipment manufacturers.  Iconic industry brands such as Isky, Edelbrock, Crane, Cragar, Hooker, Holley, Mr. Gasket and Hurst grew their companies and legends with products designed for 55-57 Chevy's.  They also brought drag racing competition to the masses, whether it was on one of the hundreds of drag strips that appeared during the 50's and 60's, or in impromptu contests conducted daily at thousands of green traffic lights.  This fanatical devotion actually began almost from the minute the first '55 Chevy rolled off the assembly line until today, when any Tri-Five Chevy draws a steady stream of admirers armed with wistful comments like:  "I had one just like that".
Steve Crook's Ohio-based '56 Chevy 150 sedan is one of the most famous nostalgia racers on the east coast. This bad-and-blue '56 sports a blown big-block Chevy, the "high and mighty" stance derived from a straight-axle front suspension and high starting line wheelstands that thrill not only the spectators but its owner-driver as well!
Alongside the cars and brand names were the legions of famous drag racers that got their starts in Tri-Five's.  Legends such as "Professor Pro-Stock", Warren Johnson proudly points to a now yellowed, black and white photo with WJ posed in front of a '57 Chevy Bel-Air at a weekend drag strip event, just one of many who trace their drag racing roots to the Tri-Five's.
Forever Chevy hero, the late Bill "Grumpy" Jenkins learned his craft by magically building and tuning Tri-Five Junior Stockers. The roster of those who carved their own drag racing legends beginning with 55-57 Chevys stretches to the horizon.
A pair of Tri-Five Chevy legends square off here for H/Stock class trophy. Frank Iaconio (foreground) began serious racing in this '57 two-door with 283 power and went on to become a name Pro Stock racer. Jere Stahl (far lane) was best known for his superbly crafted "Total Tuned" headers and battles with Bill Jenkins' A/Stock '66 Chevy II. Stahl was by then driving a 426 Hemi, '66 Plymouth. Looks like "Frankie" has a fender out on Stahl in this pic!
When that coveted Tri-Five Chevy finally sat in the driveway, its proud new owner found a plethora of material available to take a Tri-Five as near or far as the dreamer wished to go, from mild to wild.  Many made their journey and completed the circle, going from new-car to street machine or race car, then brought back to restored stock status, full-circle from their genesis.
Dave Riolo's Sacramento, CA '55 Chevy evolved from a weekend, backyard built Gasser into the famed "Temptation" match race and Pro/Mod legend. Riolo's trademark wheels-up leaves continue to thrill West Coast fans.
To grasp the popularity of the 55-57 Chevy you must first understand where these remarkable cars came from.  In the early 1950's Chevy's engineering staff set out to redefine Chevrolet Division and its products.  In doing so, they ripped out all the pages of previous Chevy books, dropped in a fresh ream of blank paper and rolled up their sleeves to begin a journey that changed the course of automotive history.  The project began in late 1952, when Chevy's Chief Engineer Ed Cole (Cole became Chevrolet President in 1956, in no small part due to the success of the Tri-Five Chevys) decided that Chevrolet must become a viable challenger in the rapidly growing, post World War II car market.  To do so would require an entire new vehicle, and a fresh, new public perception of Chevrolet.  Not only was a brand new product in order, but an entirely new company image as well.  The stodgy, six-cylinder image and grandpa styling was now unacceptable.  In its place would be cars that looked and performed like the jet-age aircraft they resembled.  At the heart of it all was the now legendary small-block Chevy V-8.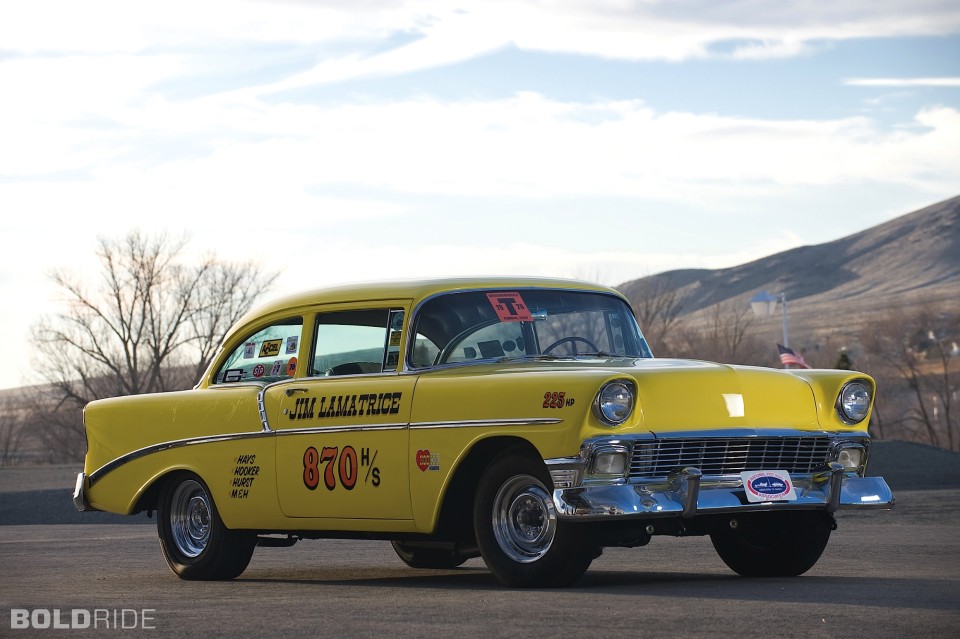 Jim Lamatrice's H/Stock, '56 210 sedan is typical of 60's Junior Stocks. Bolt-on "bump bars" for traction, chrome reversed wheels, 7″ wide "Cheater Slicks" and 265 CID, 180 hp engine with three-speed manual transmission. That prestigious "T" sticker on windshield shows car was eligible for final run trophy in H/Stock class.
Very little of what existed in 1950-54 Chevys went into the all-new 1955, and the most startling change of all was in its powerplant.  The reliable if unexciting "Blue-Flame" six remained as a base engine, but Chevy's engineers stepped way outside the box with their brand new, 265 cubic inch V-8.  Chevy now had an engine powerful enough to melt those skinny little '55 tires and reliable enough to last a hundred thousand miles on the road.  The '55 Chevy was quickly dubbed "The Hot One", and that nickname proved to be far more fact than hype.
The '55 Chevy two-door prominently featured in the now cult-classic film "Two-Lane Blacktop" also appeared in "American Graffiti " with film newcomers, Harrison Ford and Ron Howard.  Folk singer James Taylor and Warren Oates starred in "Two-Lane". The primered, fiberglass tilt front-end, four-speed shifted, '55 was powered by a 427, tunnel-ram big-block originally built and movie-tuned by Maryland's Wheatley Brothers. 
Not only were they attractive, Tri-Five's were also affordable.  This budget-easy attribute meant that before the end of their three-year styling run, new and second-owner 55-57 Chevys were winning drag races and circle track events across the nation.  Although Chevy continued to offer bigger, faster cars in future model years, the 55-57's remained atop the "wish list" of practically every young man eager to test his mechanical and driving prowess with a Tri-Five.
Scott Davis' well traveled '56 "Smokin" began racing as a bracket car at Miami Dragway before evolving into a serious, tube chassis, Super Gas racer. Scott's big-block Chevy is easily capable of low-eight's at 150+. Featured in Super Chevy Magazine, Scott leaves hard at NHRA Gatornationals, Gainesville, FL.
It was the perfect vehicle for almost any level of interest, from daily driven street machine, with minor performance and appearance improvements, to all-out, trailer-only, screaming race cars.  And Tri-Five Chevy's were equally popular as "dual purpose" cars, driven in the gate at the drag strip, jacked-up, rear tires replaced with slicks, exhausts opened and spark advance adjusted for an afternoon of serious drag racing competition.  After the trophy dash the street tires went back on, ignition spark readjusted and exhaust muffled for the drive home and the Monday drive to work or classes.
Hartford' CT's Ralph Ridgeway is credited with creating the modern Tunnel-Ram intake manifold. His "Ridgerunner" intake was based on a modified Corvette Rochester Fuel Injection manifold, machined and fitted with a pair of Carter AFB carburetors. Ridgeways' '55 C/Modified Production was much feared record holder, class winner and major event winner in Street Eliminator, shown here at his home track, Connecticut Dragway.
Drag racers favored the two-door body styles, whether "post sedan" or "hardtop" coupe.  The Tri-Five Sport Coupes were the sleekest in appearance, but the sedans had an edge by being lighter.  Because the Sport Coupes had an advantage in appearance they were the most sought after as daily driven, street machines.  They were also more expensive than used-car sedans, so many drag racers who were interested in ET's and MPH's opted for the sedans.  These were available in three different trim options.  The base was the 150, with minimal polished stainless steel accent trim and a sparse interior.  Next came the 210, with a little more here and there.  The top-end was the Bel-Air two-door sedan, with the extra stainless steel trim, and in the '57, that distinctive rear fin, brushed stainless accent that became the icon of the entire three model years.
Jesel is a product name well known to serious engine builders. Wayne and Danny Jesel ran this G/Stock Automatic, '56 panel wagon powered by a 265 V-8 and four-speed, Hydramatic trans. Note rules-required, 7″, two-grooved tires and Cragar S/S wheels. Wayne and Danny Jesel were inducted into East Coast Drag Times Hall of Fame in 2014.
All three models were available with the trusty yet sleepy, 140 hp, Blue-Flame six.  The revolutionary new V-8 was an extra-cost option.  V-8 engines available in Tri-Five Chevys came in two displacements.  '55 and '56 Chevy's were available only with 265 V-8's.  The '57 upped the ante with the new 283" V-8.  This engine was offered in a mild, two-barrel carburetor, 185 hp configuration, a single Rochester 4-GC four-barrel "Power-Pack" 220 hp option, a 270 hp, dual-carb 283 or the most remarkable of all, a Rochester Fuel Injection, 283 hp Chevy V-8!  The 270 and 283 HP engines both came with a solid-lifter performance camshaft, dubbed the "Duntov 097", for the Chevy engineer who fathered the hot-rodded engine project, Zora Arkus-Duntov.  The 270 and 283 HP engines were also available in the new, two seat Chevy Corvette.  In '57 the 265 was available as an option, but most buyers chose the 283 as their V-8.
This '57 210 was well known to NHRA Div. 2 Modified racers. It had a 292″ small-block with Hilborn injection and a Borg-Warner four-speed. Several times NHRA National Record holder, F/Gas Indy class winner and Div 2 points champ in 1970, driven by the late Bill "Buzzard" Bussart. "Hill" on door is story author, Jim Hill.
The 283/283 was an amazing engine.  It was light, simple, durable and easily modified to produce twice its original power output.  The 283's cast iron cylinder block had plenty of "meat" left for a machine shop "punch out" the cylinder bores to 4.00", and with the forged steel, 283 3.00" stroke crankshaft, the displacement rose to just over 300 cubic inches.  From this humble beginning came the legend of the "301 Chevy".  In 1967, the Z-28 302 V-8 was re-born from the hot rodder's classic 301.  With this, engine builders and rodders began learning all about engineer stuff like "rod-ratios", "piston dwell time", "rod length" and maximizing volumetric efficiency in a high-rpm, small-block Chevy.  The '57 283/283 was also the first factory production engine to crank out "One HP per Cubic Inch".  Within ten more years these same basic engines were making over two HP per cubic inch, and at nearly 10,000 rpm!
Nick and Joanne Iarussi's outrageous, altered-wheelbase, '55 Super Gasser is known for its "Godzilla" name and wheels-up performances in Super/Gas.  Nationally-famous and beloved Godzilla '55 uses a big-block Chevy for eight-second runs while not stomping buses, swatting at fighter jets and wreaking havoc in Tokyo.
That elementary Tri-Five chassis design and generous engine compartment made it easy to nestle a small-block Chevy of any displacement size onto the engine mounts.  Hot rodders added aftermarket "stroker" crankshafts that extended the stroke to 3.50", and produced an engine with 352 CID. By 1962 the 283 grew into a series of 327's, with a 3.25" stroke and a 4.00" bore. In 1967 the "universal" 350 debuted, with a 3.48" stroke crank, followed in 1970 by the 400" small block, the largest of all the Gen I small-block Chevys. All small-block engines based on the 350 and/or 400 with aftermarket displacements of 377-383-406", up to the monster small blocks of 427-454 cubic inches.  Regardless, externally they are all similar and can be lowered into a Tri-Five as easily as a stock 283.
The late Al Maynard ran this '57 E/Gasser for many years. Maynard's '57 has a straight-axle, 3/4 ton truck rear axle and injected 301″ small-block Chevy for power. Maynard was a famed Chevy parts guru with a photo-memory for part numbers and apps! In far lane is Harry Luzader's famous '32 Ford. Luzader is a 2016 ECDT Hall of Fame nominee.
That generous engine bay also allowed for "a little more" than even the monster small-block engines could offer.  Other GM V-8's found their way into Tri-Five's, and not all were Chevy's.  Popular engine swaps included Pontiac, Oldsmobile and Buick's up to 455", and even torquey, 500" Cadillac V-8 engines.  Chevy's W-Series V-8's were also common, most often the 409, which was factory available in up to 425 HP versions in the middle 60's.  But it was the Chevy Mark IV "Big-Block" engines that made its mark.  Dropping a 396-427-454 Chevy into a 55-57 was easy for a backyard enthusiast, and the net result was brute power.  Exhaust companies designed and manufactured tube steel headers for big-block swaps, and some offered headers for the non-Chevy engine swaps.  There's even a '55 Chevy known to frequent the annual NHRA California Hot Rod Reunion each year with a dual-quad, 392 Chrysler Hemi resting comfortably inside. Nostalgia Gasser racer Fred Bear has a 392 Hemi powered '55 Nomad wagon as a push car!
Northridge, CA's Bob Lambeck gained later fame as team driver for the late "Dandy" Dick Landy's Dodges, and of his own Mopar racers. Lambeck, shown here at the NHRA Nationals, Indianapolis, started with this 270 hp, 283, '57 Bel-Air Sport Coupe. Front bumper sports tow-bar tabs, indicating a long flat-towing trip from CA to Indy.
Lest you think of Tri-Five Chevys as dinosaurs, the mega-popular GM "LS Series" of modern small-block V-8 engines are also being swapped into 55-57's. Kits that convert LS V-8 engines to a carburetor and distributor ignition are available, as are kits that add computer controlled, EFI power to those 50+ year old relics!  Big-inch, modern EFI power and efficient fuel economy are now available and relatively easy to install in any 55-57 chassis.
Coming In Part II:
Uh-oh, what's that crunching sound? Rear Axle Beef-Ups, High & Mighty Or Low-Down Front Suspension, Racing & The Perpetual Popularity Of The Tri-Five Chevy!